Welcome to Week 3 cooking class for kids. This class was a shorter one, but packed with valuable information.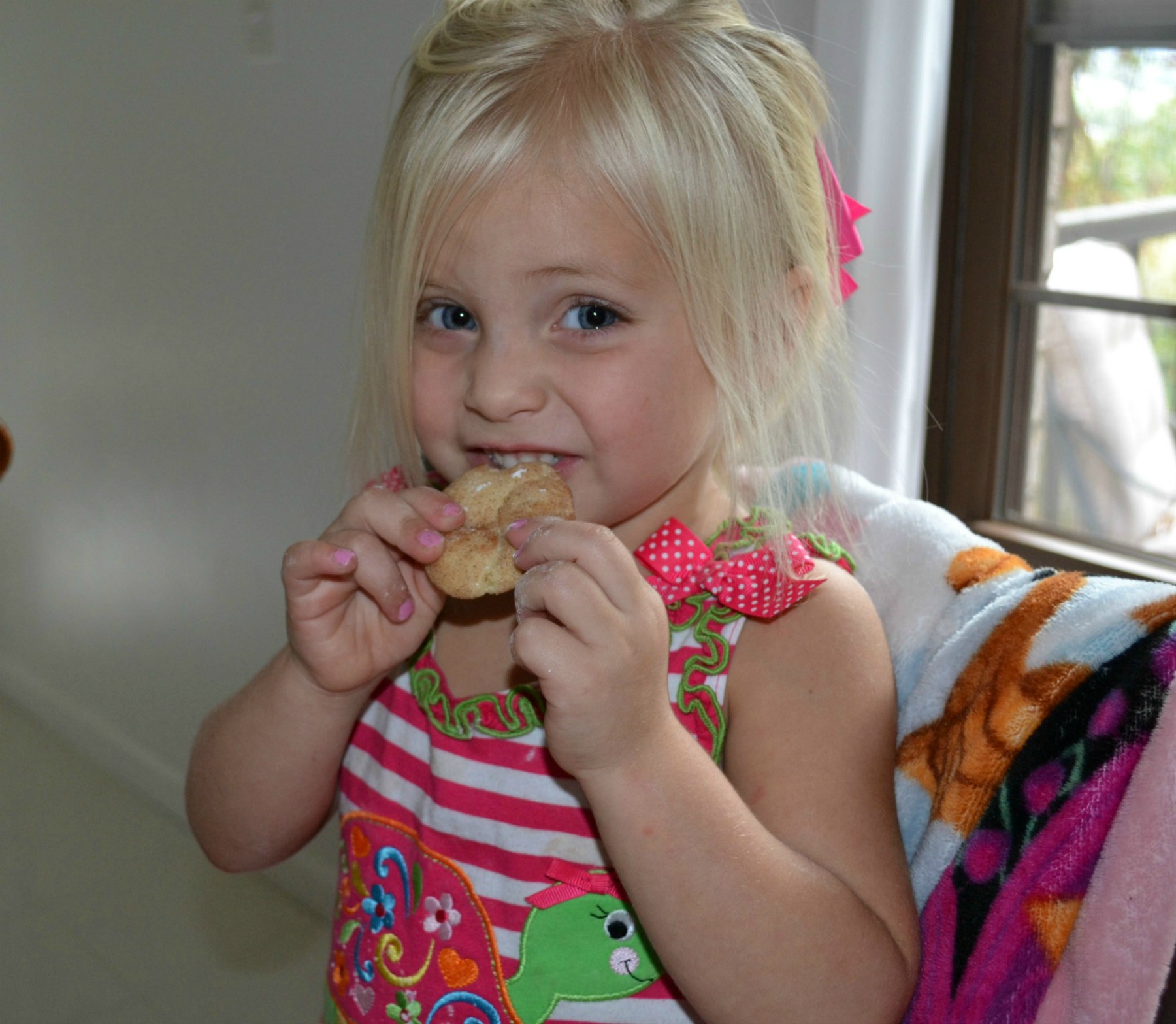 The first goal for Week 3 cooking class was to learn what we call wet or dry ingredients and how to measure them. The second goal was to learn some differences between baking and cooking.
It is so hard to get many of the grandchildren together at the same time with their busy schedules. They go to school and then they are all active in their sports. Cooking with Grandma Honey gets worked in between other activities. I try to at least keep ones together that are in the same age group.
Here are some things we covered in Week 3 cooking class.
(1) WET VS DRY INGREDIENTS
Dry ingredients are things like flour, sugar, spices, baking powder, and baking soda. We discussed how these ingredients should be stored in closed containers, check the expiration date on them, and how to organize a baking area in a kitchen.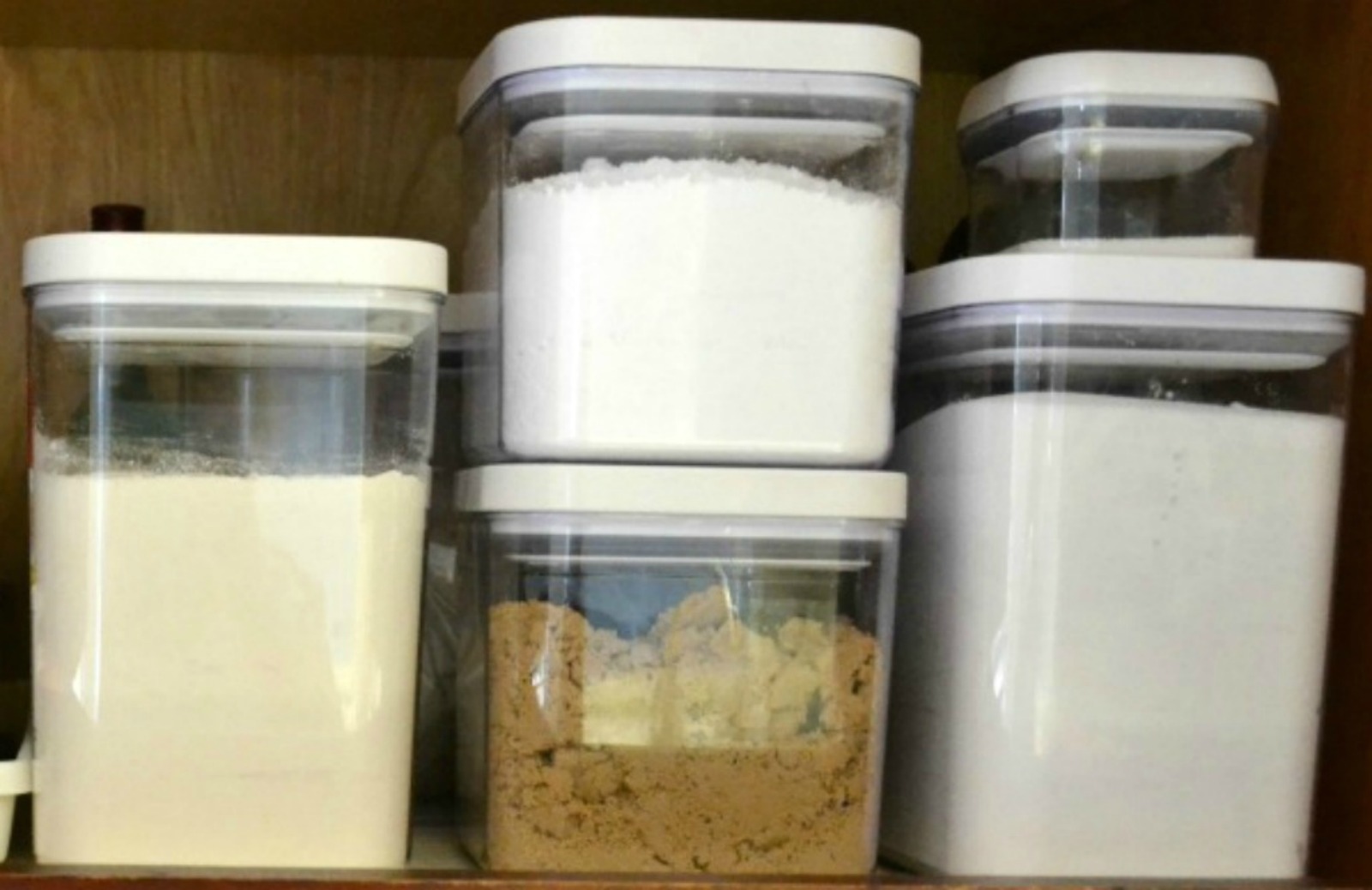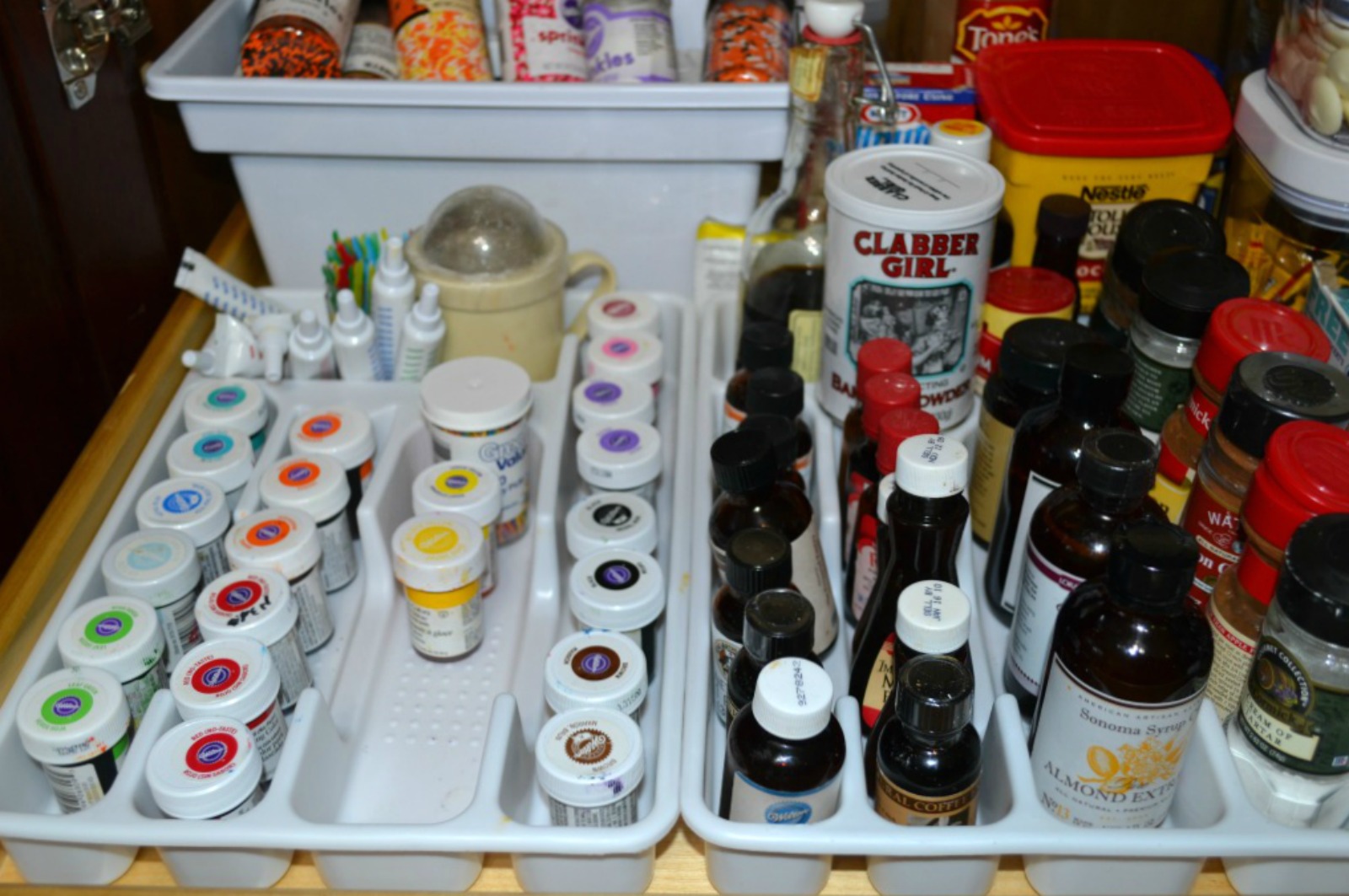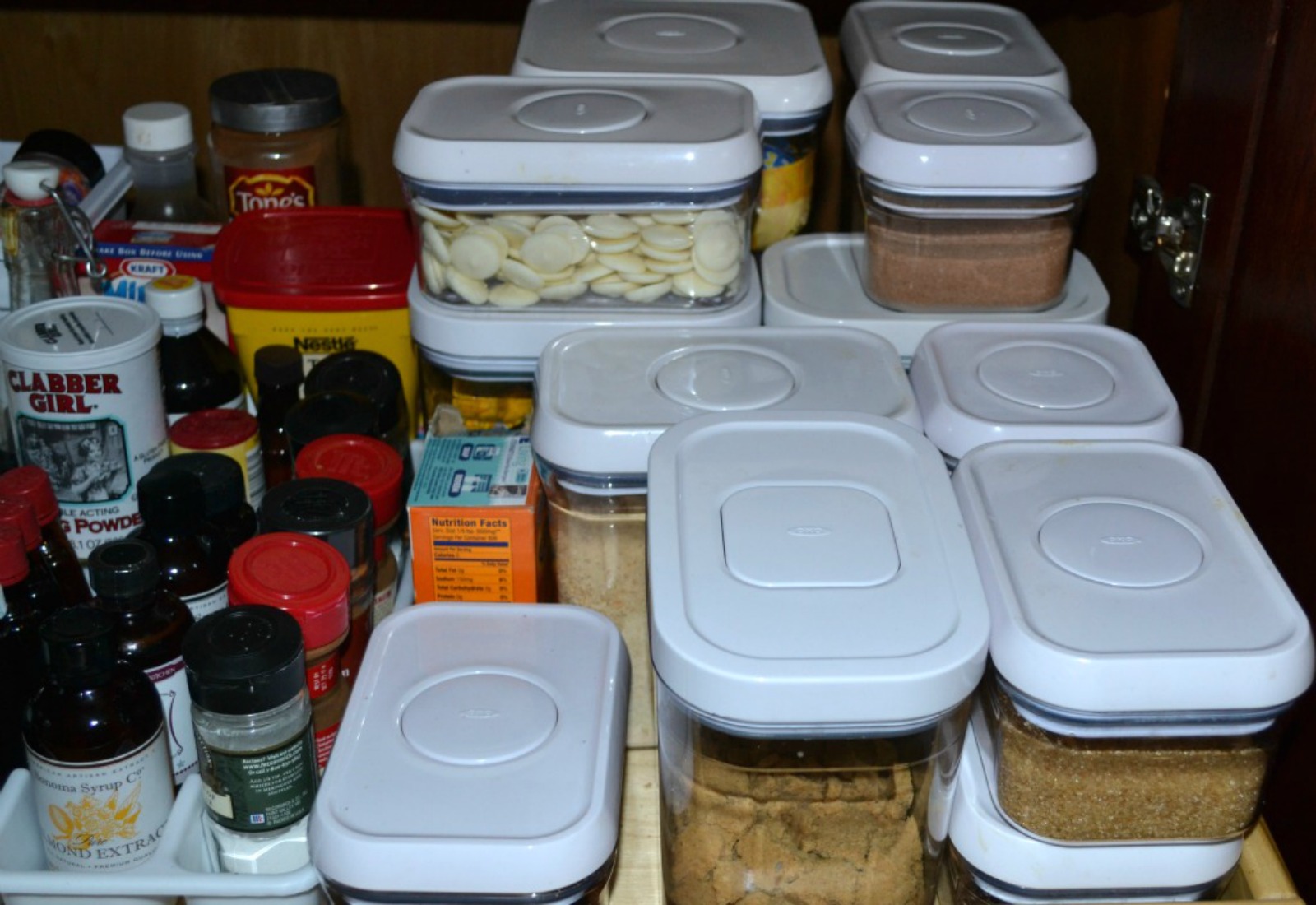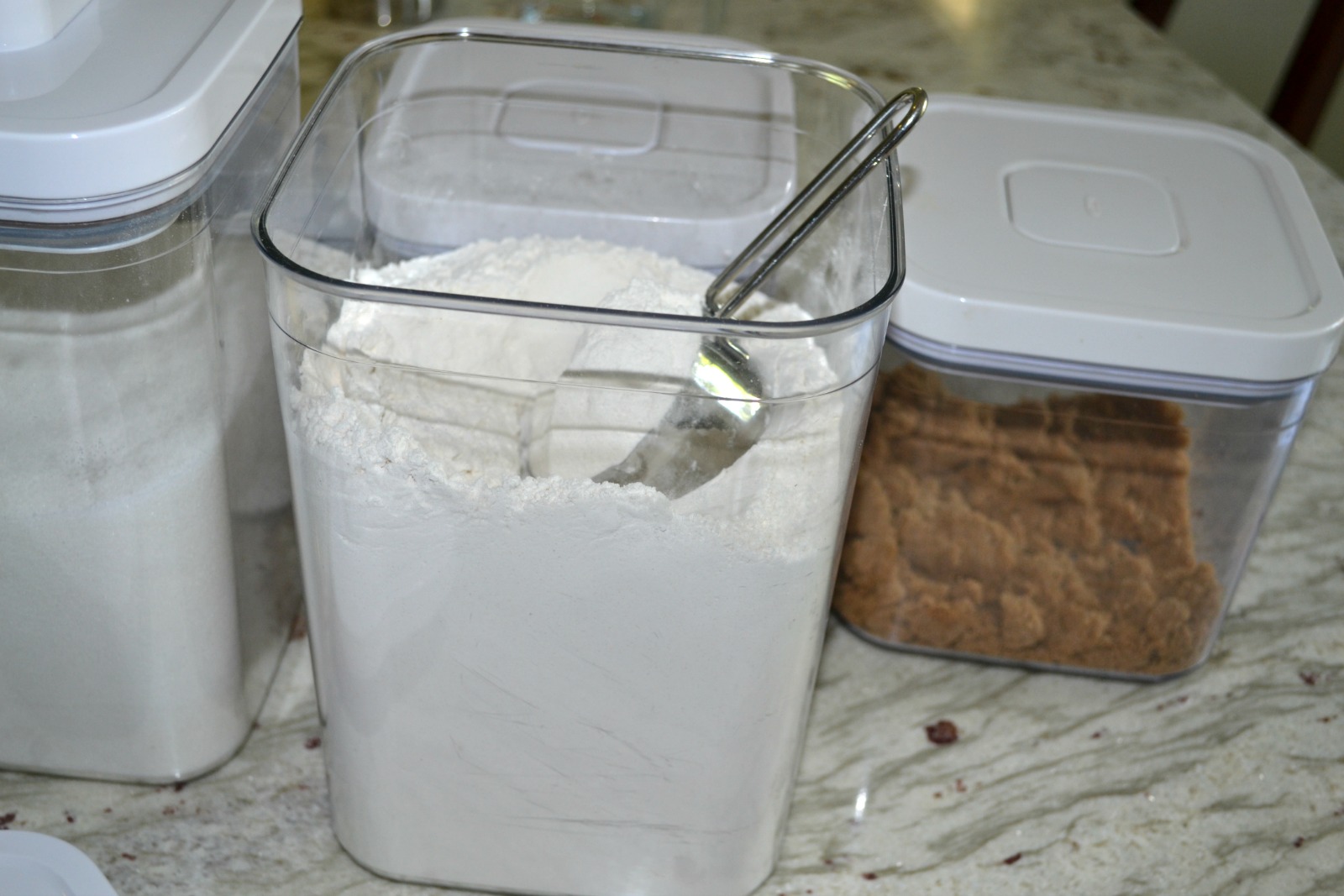 I love to use the OXO clear plastic storage containers. They come in a variety of sizes and fit nicely in my pantry. The best feature is that the top opening is so wide, you can scoop right down in them with your measuring cups. It is so easy to line up the ingredients you will be needing for your recipe.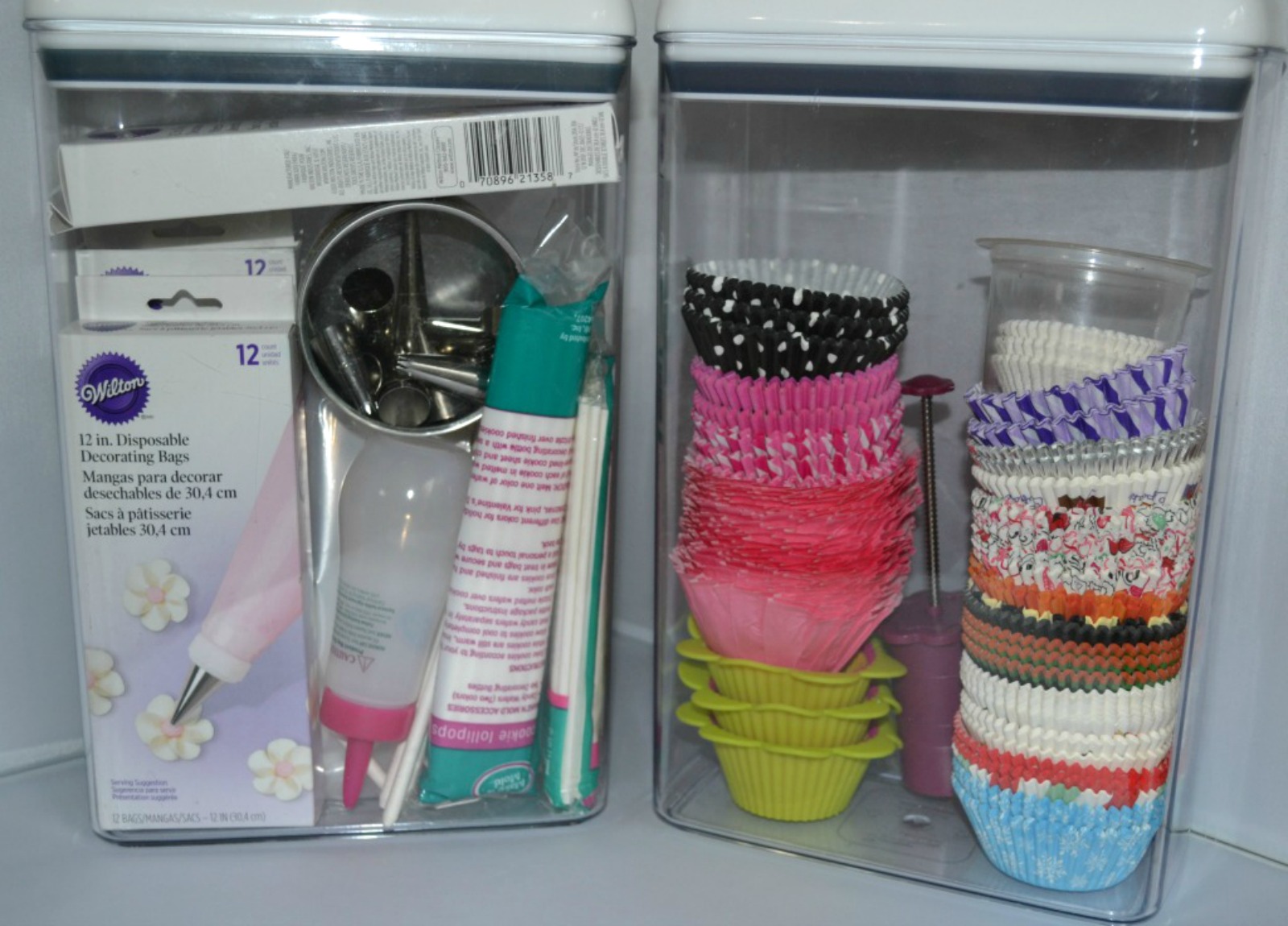 I also use them to organize my cake decoration tools, and cupcake paper liners.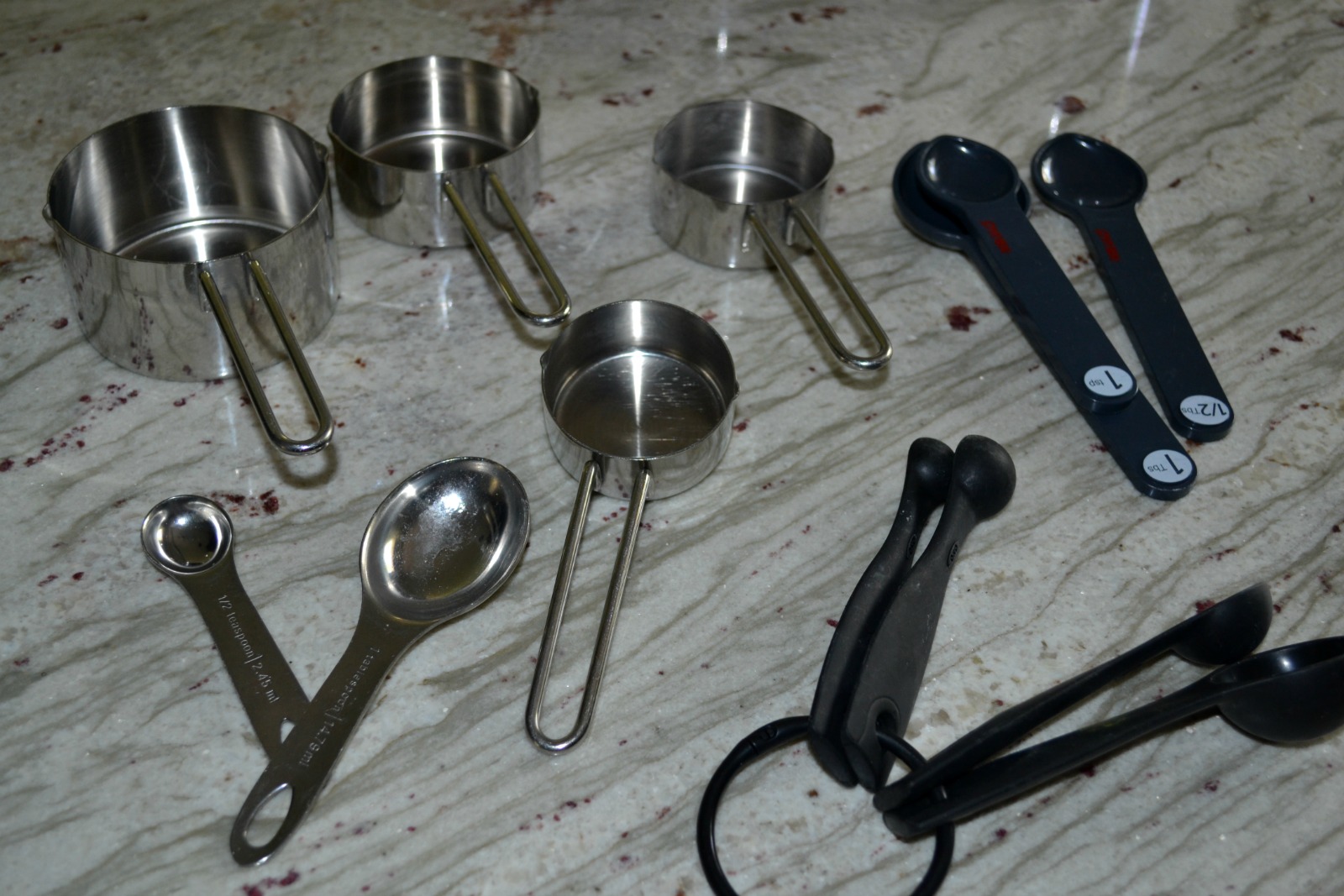 Here are the measuring cups and spoons we use for dry ingredients. The way I measure mine is called the scoop and sweep method.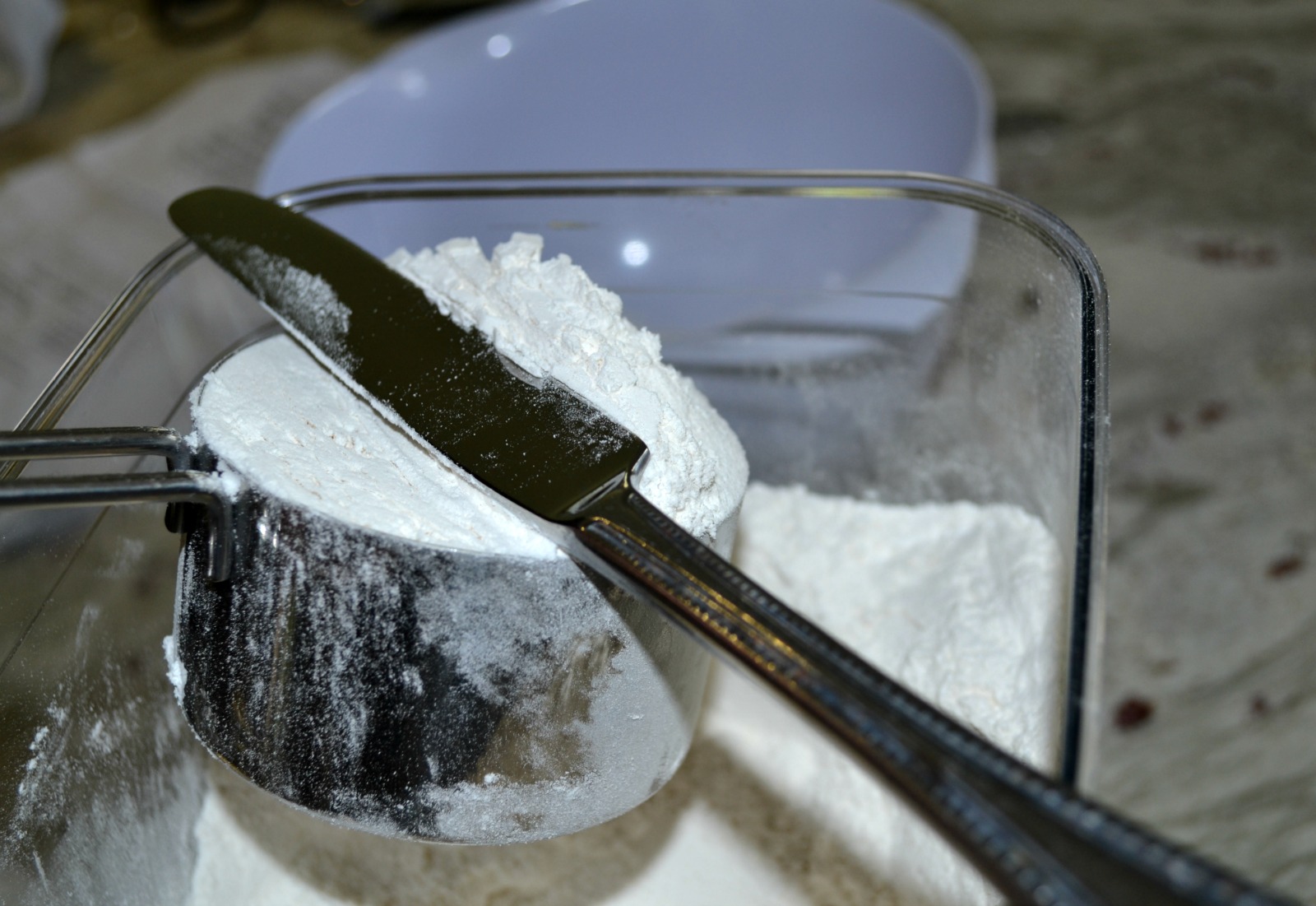 Fill a measuring cup overflowing with flour or sugar, and then scrape it off, using the back of a butter knife to level it. I measure my spices and other dry ingredients the same way, using a measuring spoon.
Brown sugar is the one dry ingredients you always pack down in the cup when you are measuring it.
The children practiced measuring different ingredients. I told them that usually a recipe will have you to combine the dry ingredients together in a bowl before adding them to the wet ingredients. I like to combine mine together with a whisk.
Wet Ingredients are things like water, vanilla, other extracts, eggs, milk, or cooking oils.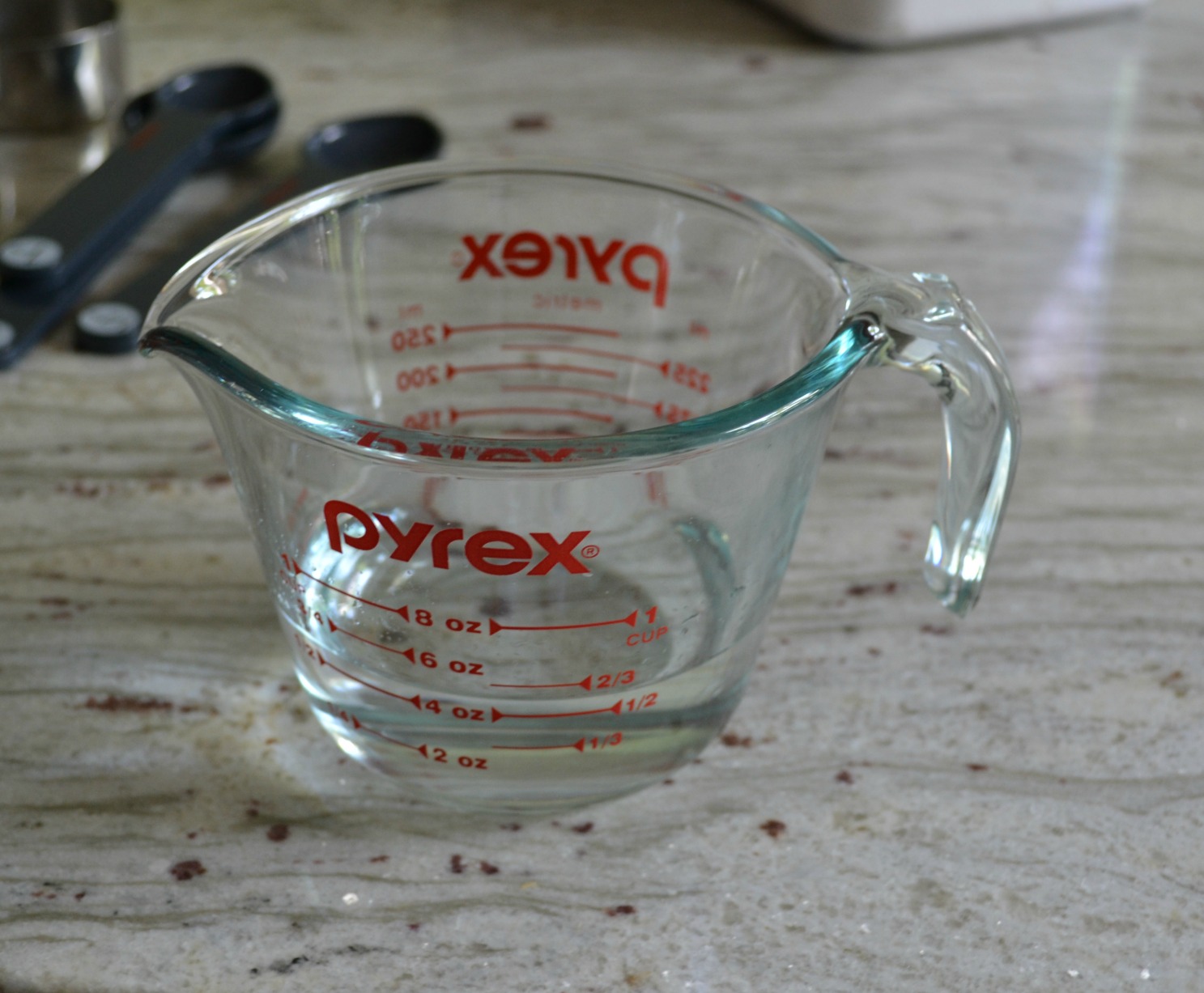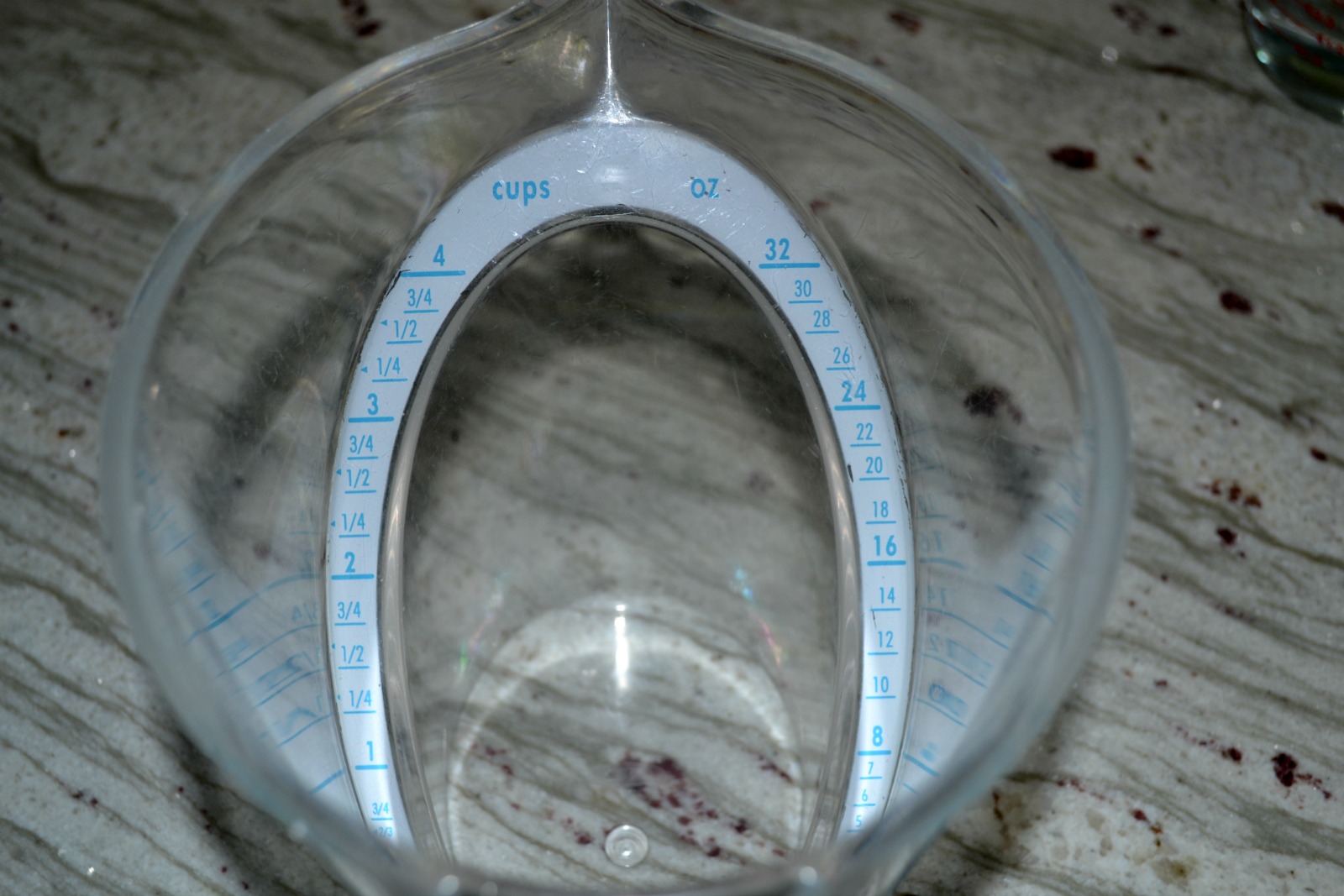 The wet ingredients need to be measured in a glass, or clear plastic measuring cup so you can see the line on the cup. Do not hold it up to read. Sit it on the counter and bend down to look at it. I do have an OXO measuring cup that has an angle, so that you can read it without bending over.
It is important to read each recipe carefully, as far as the measurements, and in which order the recipe tells you to combine them. When adding the dry ingredients to a recipe, do not add all at once. It is best to add in 3 parts.
Other ingredients we needed to measure are baking chips, butter, Crisco shortening, and pumpkin.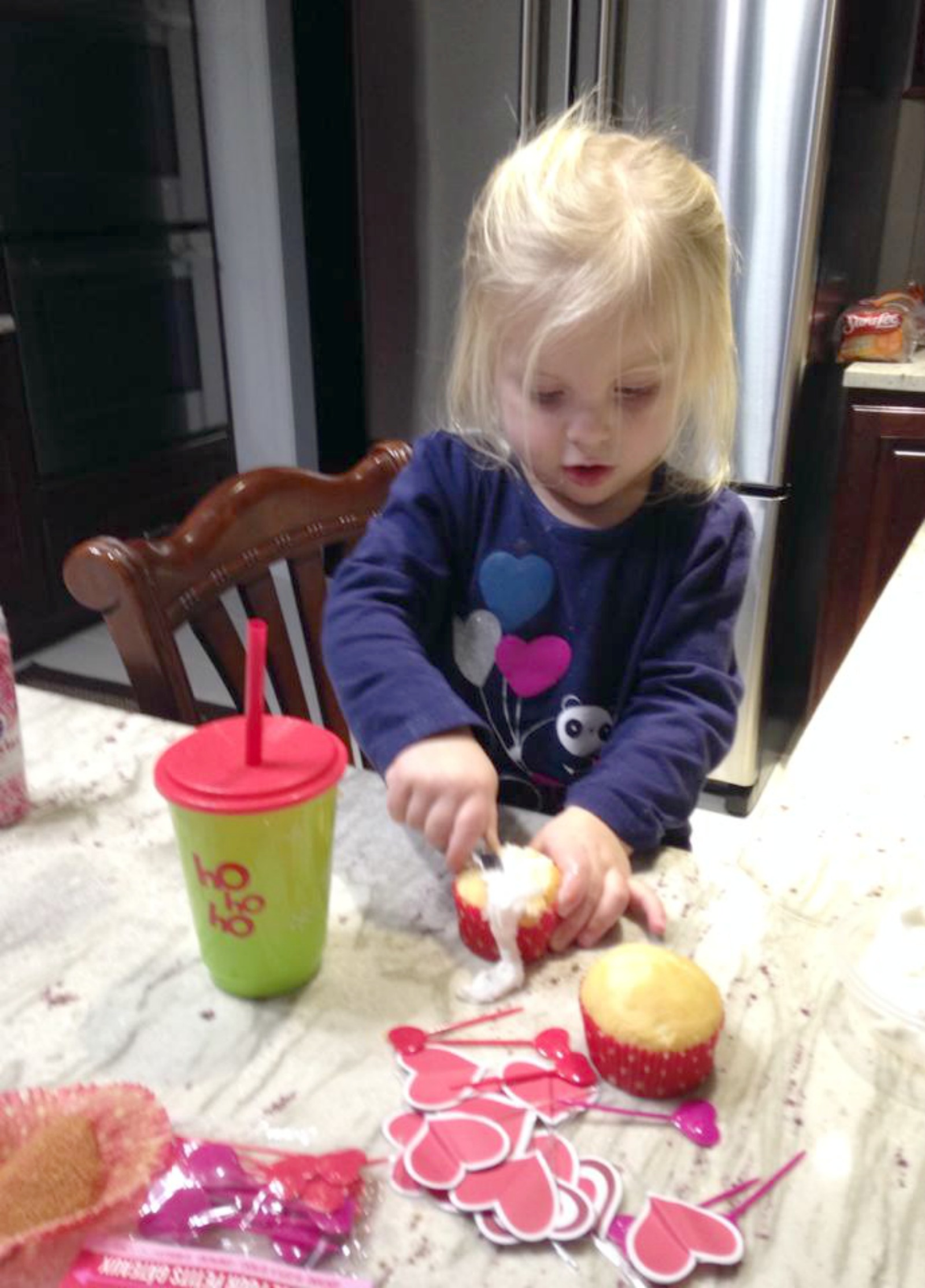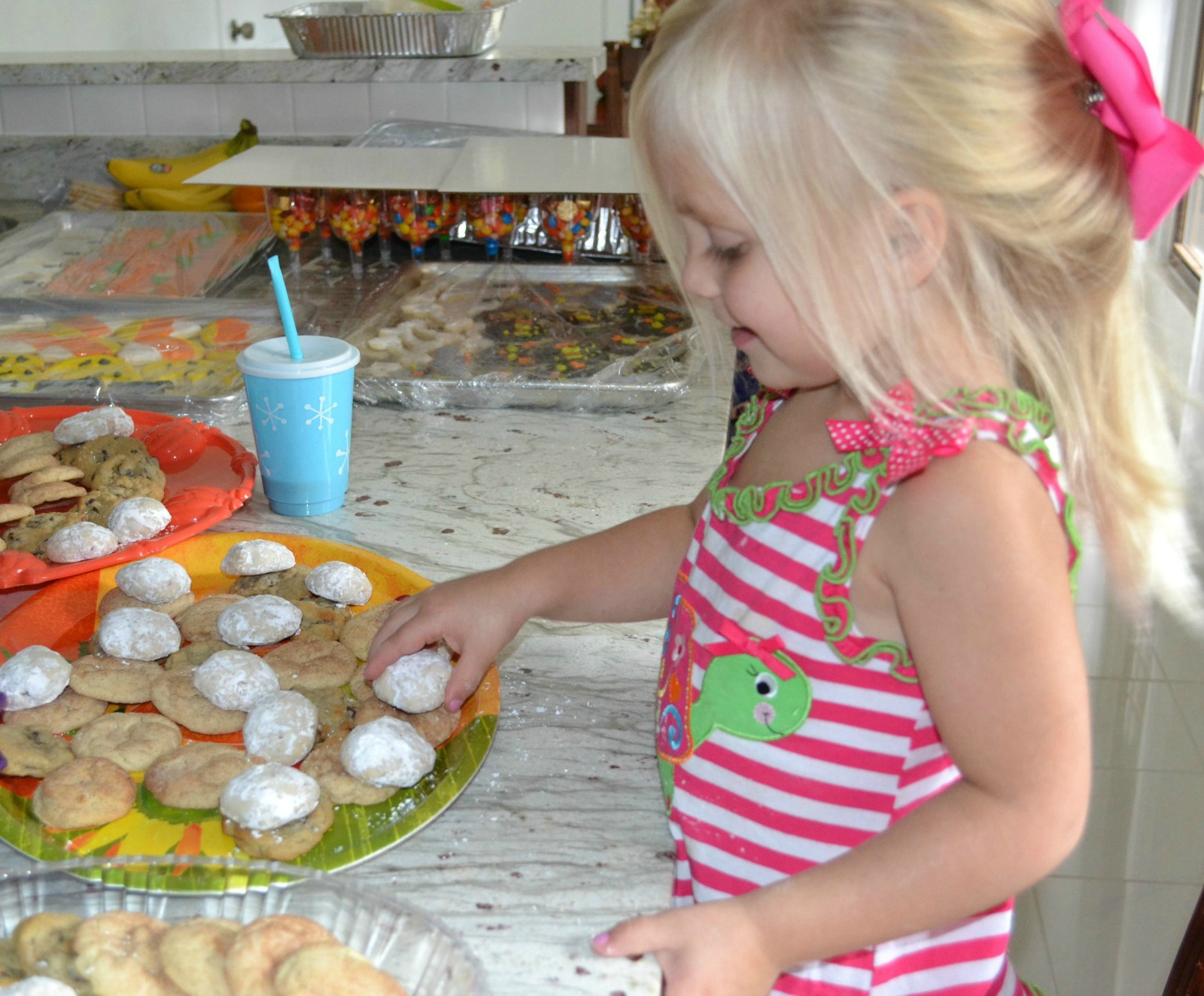 For this little beauty, her measuring expertise was "how much" and how many. You can never have too much icing on a cupcake or too many cookies on the tray that is going to your own house. She kept telling me why the other kids did not need as many cookies as she did!
(2) BAKING VS COOKING
I told the children that a lot of times people will use these terms for each other but there is a big difference. The easiest way I could explain to them was that in cooking, you can be very creative, you can add ingredients to a recipe, and the amount does not have to be exact. (Now you do not want to add a large amount of something like salt by mistake)
As I have heard them say many times on Food Network, baking is like a chemistry and has to be exact. You need to follow a recipe very carefully. When you are making a recipe, there are some simple things you can change like white chips for chocolate, vanilla for almond extract, or the kind of nuts you use. You cannot change the amounts of the leavening agents (baking soda, baking powder, cream of tartar) or amounts of butter, flour or eggs.
Week 3 cooking class was a success, and the older children were more aware of these concepts than they were when we started the day. The younger class did not understand measuring , but they had fun scooping out the flour and sugar.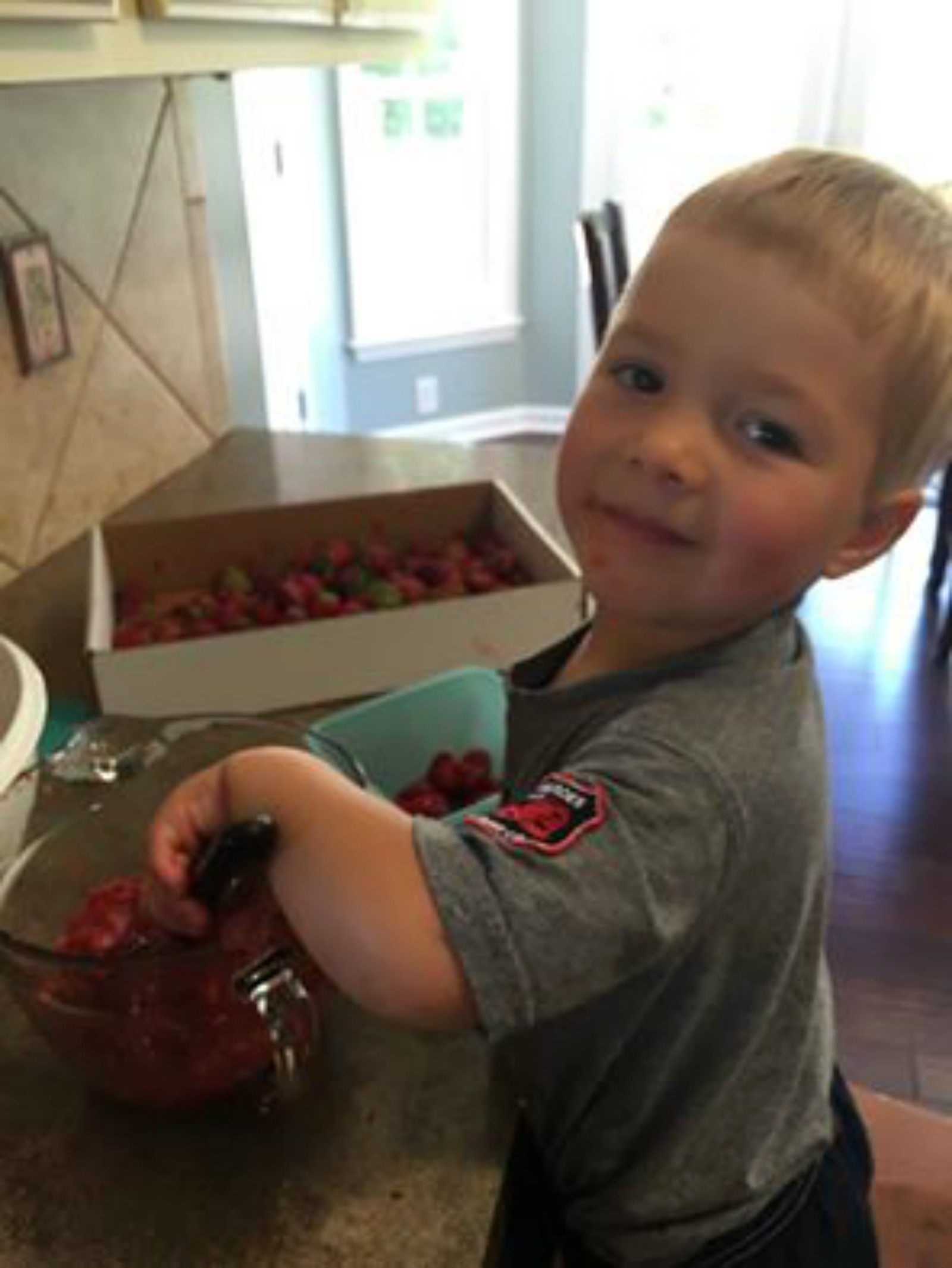 This little guy helped his mommy measure strawberries.
We are now ready to actually start cooking or baking in our classes.
Next week's post will be on BREAKFAST with some yummy recipes.
Here are the previous 2 weeks in case you missed them.
Please follow and like us: