Jump to recipe
Cranberry-Orange-Cinnamon-Monkey Bread is a delicious and easy variation on the monkey bread we all know and love.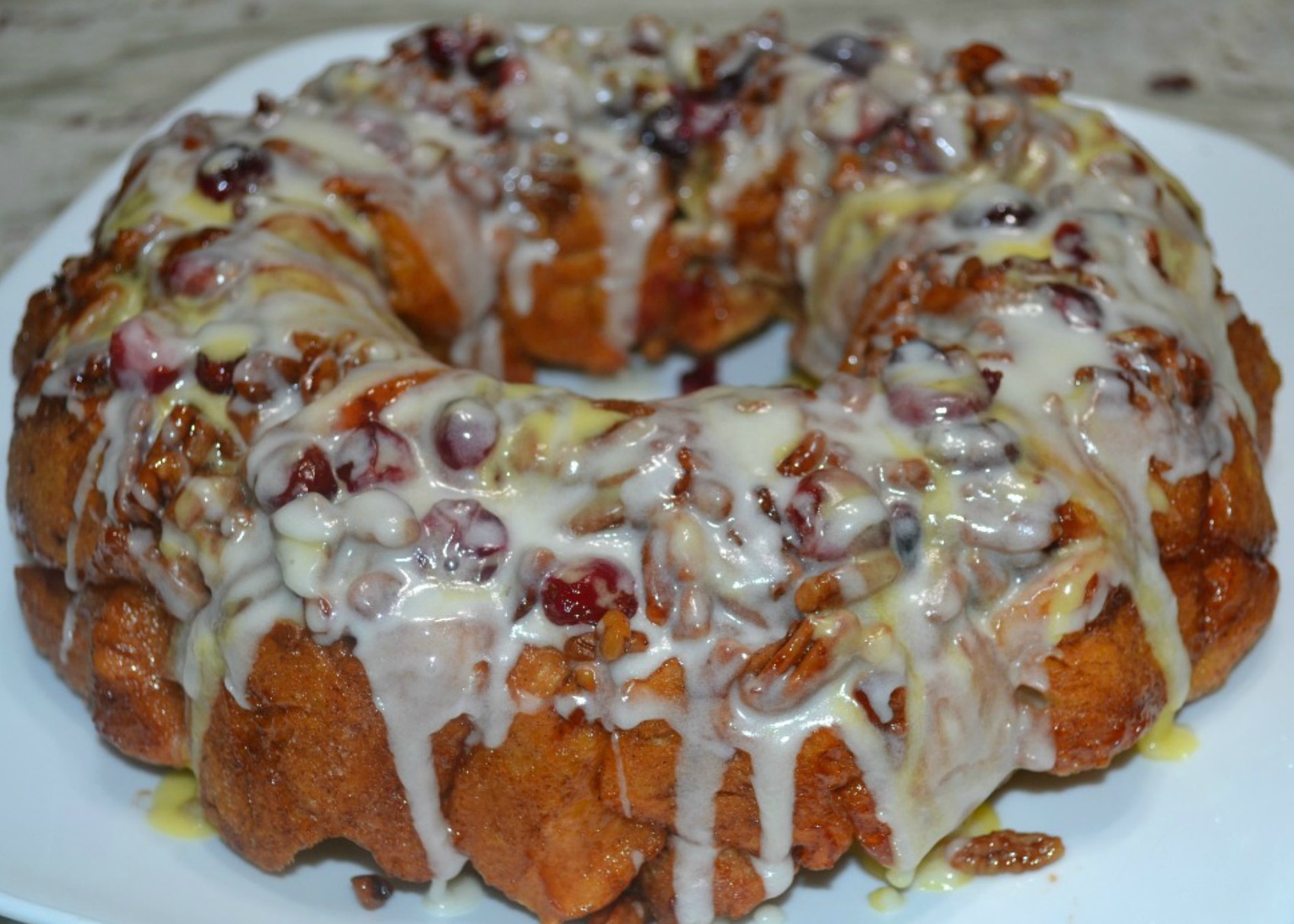 My grandchildren love to make monkey bread when they visit and over the years, we have tried a lot of variations to the original one made from refrigerated biscuits.  We have added blueberries, cranberries, raisins, and drizzled with different flavored glazes.  
In 2008, one of my grand-daughters and I came up with a monkey bread recipe that earned me a trip to the Pillsbury Bake-off Contest in Dallas, Tx.  I won the Breakfast category which included $5000 and a new stove.
Mascarpone Filled Cranberry Walnut Rolls.
The monkey bread recipe above was created in my kitchen with some grandchildren and some Pillsbury refrigerated rolls.  I do not have step by step pictures because we just made it and then they took a picture of it.  I ran across this picture today and wanted to share it.
Spending time in your kitchen with your children and grandchildren is very rewarding in so many ways and they will always remember it.
Now, this monkey bread recipe is not what you would call low fat or healthy but it sure is good and very easy.  It is amazing what you can combine from your refrigerator and pantry.
I had a can of cinnamon rolls and a can of orange rolls, so that was how this all began.
CRANBERRY-ORANGE-CINNAMON MONKEY BREAD
Ingredients
1/4 cup orange juice concentrate, thawed
1/3 cup fresh cranberries (frozen or dried)
1/2 cup pecans, chopped
1 can Pillsbury Refrigerated Cinnamon Rolls with Icing (8ct; 12.4oz)
1 can Pillsbury Refrigerated Orange Flavor Sweet Rolls with Icing (8ct; 13.9oz)
1/2 cup butter, melted
1/2 cup cinnamon-sugar mixture
Instructions
Preheat oven to 350 degrees F. Spray a 12 cup bundt cake pan with no stick cooking spray.
Pour orange juice concentrate into the bottom of pan. Arrange cranberries evenly over the juice. Sprinkle pecans over the cranberries.
Open both cans of the rolls and separate; set the icings aside. On a cutting board, cut each roll into 4 pieces and place in a large mixing bowl. Alternate the kinds of rolls. Pour the butter over the rolls. Sprinkle with the cinnamon-sugar mixture. Using a large wooden spoon, fold the rolls into the butter and cinnamon mixture until all rolls are coated. Pour rolls into the cake pan and arrange evenly.
Bake for 25 to 30 minutes, until the rolls are no longer doughy in the center. Remove from the oven and cool 5 minutes. Carefully invert onto a heatproof serving platter, remove pan and scrape any remaining topping onto the rolls.
Allow to cool 5 minutes then stir the white icing and drizzle half of it over the rolls. Let monkey bread stand for 5 minutes and then stir the orange icing and drizzle half over the rolls. You may use more icing or only one if desired.
© 2023 Copyright GRANDMA HONEY\\\\\\\'S HOUSE
Have fun with the children in the kitchen and let them get creative.
Other ideas for monkey bread can include savory fillings such as cooked sausage, cheeses, ham and chicken.
Please follow and like us: