Jump to recipe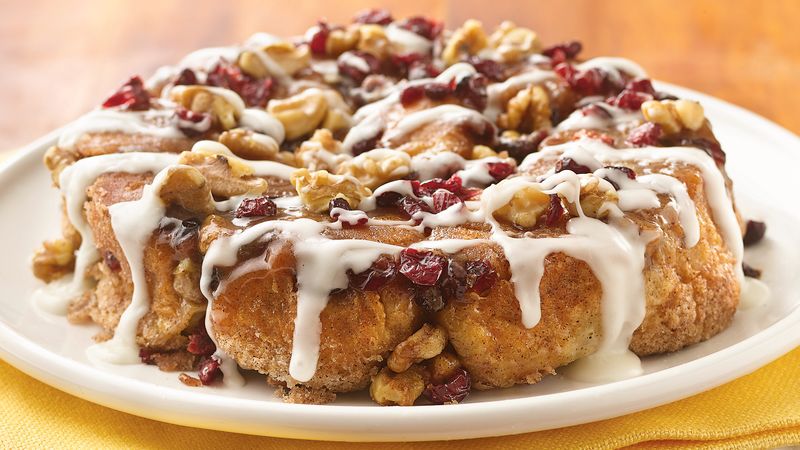 In 2008 I was chosen as a finalist for the 43rd Pillsbury Bake-off Contest.  I cannot even express how exciting this was and what an unforgettable experience. My recipe was Mascarpone Filled Cranberry Walnut Rolls.
I was chosen as the winner of my category (Breakfast/Brunch)  and one of the 5 finalists to win the $1,000,000 dollars!  I did not win that, but did receive $5000 and a new stove.
These Mascarpone Filled Cranberry Walnut Rolls would be perfect to make and serve at a Mother's Day brunch, a holiday breakfast, when you have guests, or just any day.
I have made these so many times for my family, guests, and functions in my community. They are so simple to make, and my granddaughter, that is 8 years old, makes them with me also.
These breakfast sweet rolls are always requested  at the annual family New Years Day brunch.
I will include the recipe for them as well as a video that was created by Pillsbury.
HERE is a recipe that only makes 5 rolls, and is perfect for 1 or 2 people.
MASCARPONE FILLED CRANBERRY WALNUT ROLLS
Ingredients
Rolls
1/4 cup sweetened dried cranberries, coarsely chopped
1/3 cup walnuts, chopped
1/2 cup sugar
1 1/2 teaspoon ground cinnamon
1 can (10) refrigerated buttermilk biscuits
(**Recipe works best with small biscuits, not the flaky layers. They don't roll as well)
1/2 cup mascarpone cheese, softened
1/4 cup butter, melted
Glaze
1 Tablespoon mascarpone cheese, softened
1 cup confectioner sugar
1-2 Tablespoons milk
Instructions
Heat oven to 350°F. Lightly spray 8- or 9-inch round cake pan with No-Stick Cooking Spray.
In small bowl, mix cranberries and walnuts; set aside. In another small bowl, mix granulated sugar and cinnamon; set aside.
Separate dough into 10 biscuits; press each biscuit into 3-inch round. Place heaping 1 teaspoon of the mascarpone cheese on center of each biscuit. Bring all sides of dough up over filling, stretching gently if necessary, and gather in center above filling to form a ball; firmly pinch edges to seal. Roll each biscuit in melted butter, then roll in sugar-cinnamon mixture. Place 1 biscuit in center of pan. Arrange remaining biscuits, seam sides down and sides touching, in circle around center biscuit. Pour remaining butter over biscuits; sprinkle with remaining sugar-cinnamon mixture.
Reserve 1/4 cup cranberry-walnut mixture; sprinkle remaining mixture over biscuits.
Bake 28 to 30 minutes or until biscuits are light golden brown. Do not overbake. Place heatproof serving plate upside down on pan; carefully turn plate and pan over. Let stand 1 minute, then carefully remove pan.
In medium bowl, stir glaze ingredients until smooth. Drizzle glaze over top of rolls. Sprinkle reserved cranberry-walnut mixture over coffee cake. Serve warm.
© 2023 Copyright GRANDMA HONEY\\\\\\\'S HOUSE
Video link HERE to see how to make these.
Pillsbury created this video.
Please follow and like us: