Jump to recipe
This Creamy Chicken Spaghetti is a delicious, quick dinner that your family will love.
This recipe is an easy one to create with ingredients you probably have in your pantry.  I have been pulling out several old recipes to use during our "stay at home" time.
In my recipe, I use rotisserie chicken, but since I am not going to the store, I will just cook some chicken breasts and shred it.  You may also substitute any "cream of" soup you have on hand.
I have made this recipe for large crowds, as well as a version cut down to serve 2 people.  This can be made a day ahead and baked before serving for dinner on the day you need it.  I also like to use a rotisserie chicken for convenience, and just love the taste of it.  Serve this Creamy Chicken Spaghetti with a loaf of crusty bread and a salad.
Creamy Chicken Spaghetti
Ingredients
1/2 lb thin spaghetti
1 can cream of mushroom soup
2 cups shredded cheddar cheese
1/4 cup green bell pepper, diced
1/4 cup red bell pepper, diced
1/4 cup sweet onion, diced
1 Tablespoon hot sauce (optional)
1/2 teaspoon coarse black pepper
2 cups chicken broth
2 cups rotisserie chicken, shredde
Instructions
Preheat oven to 350 degrees F. Spray a 1 1/2 quart baking dish with no stick cooking spray.
Bring a medium saucepan of salted water to a boil. Break spaghetti into 3 pieces and cook about 6 minutes. Drain water and place spaghetti in a large mixing bowl.
Add the soup, 1 cup of cheese, peppers, onion, hot sauce, black pepper, chicken broth, and chicken. Stir all of the ingredients together with large wooden spoon to combine well. Pour into the prepared baking dish. Sprinkle remaining cheese on top.
Bake for about 25-30 minutes or until mixture is bubbly and cheese is melted. Remove from oven and serve warm
© 2023 Copyright GRANDMA HONEY\\\\\\\'S HOUSE
HERE is the recipe that has been adjusted to serve 2 people.
Enjoy this quick and delicious meal.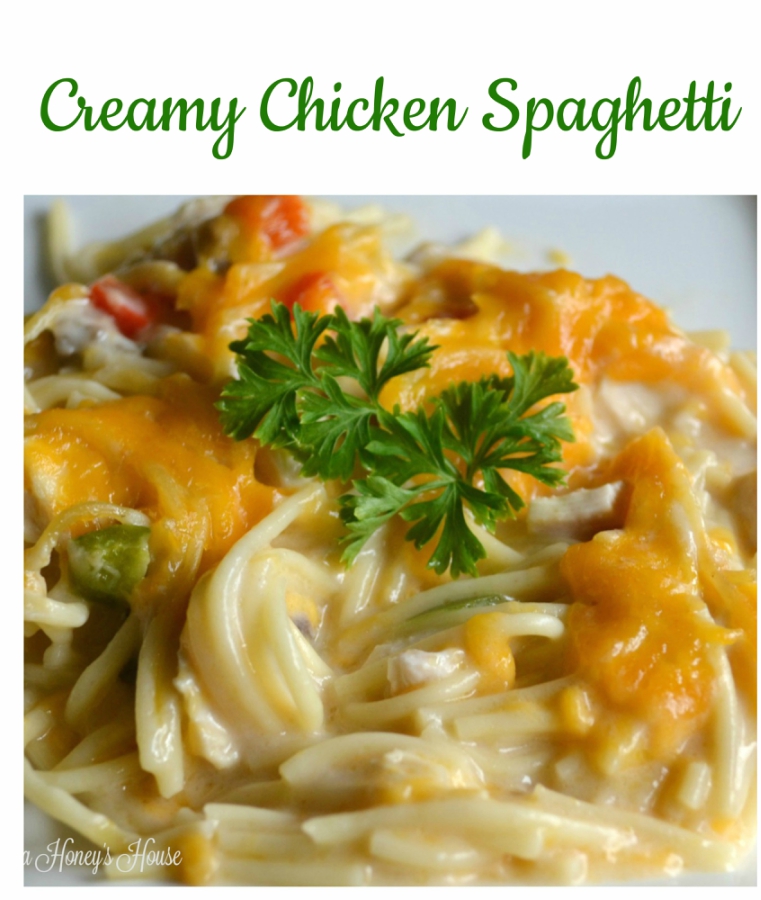 Please follow and like us: