Jump to recipe
This Strawberry Mascarpone Hazelnut Chocolate Tart is so easy to make. Just see how my 11 year old granddaughter did it.
My Strawberry Mascarpone Hazelnut Chocolate Tart was the recipe that earned me a spot as a finalist 2 years ago in the Pillsbury Bake-off Contest.
This past week all of my grandchildren were out of town, Grandpa Bob and I went to the lake for a week, so we did not get to have my weekly Kids Cooking Class.  I am reposting a previous cooking class with my granddaughter when she made this.
My  11 year old granddaughter called me one day and said that she was required to do a "How To" demonstration speech in  one of her classes.  She asked to do my Pillsbury entry!  She came to my house one evening and made the tart and I took pictures.  This was an easy recipe to do and I am so proud of the great job she did.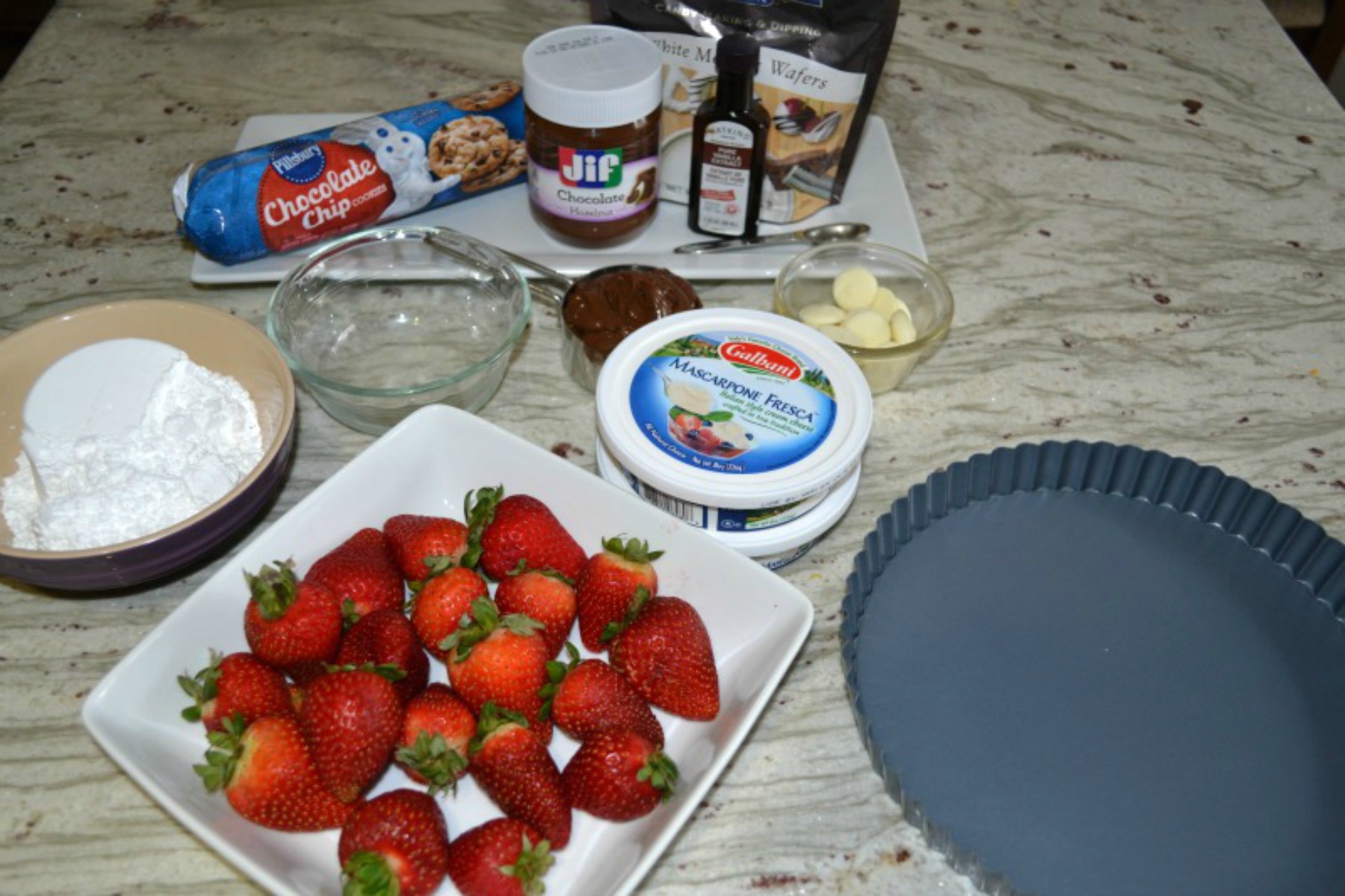 I reviewed the recipe with her and she assembled the ingredients.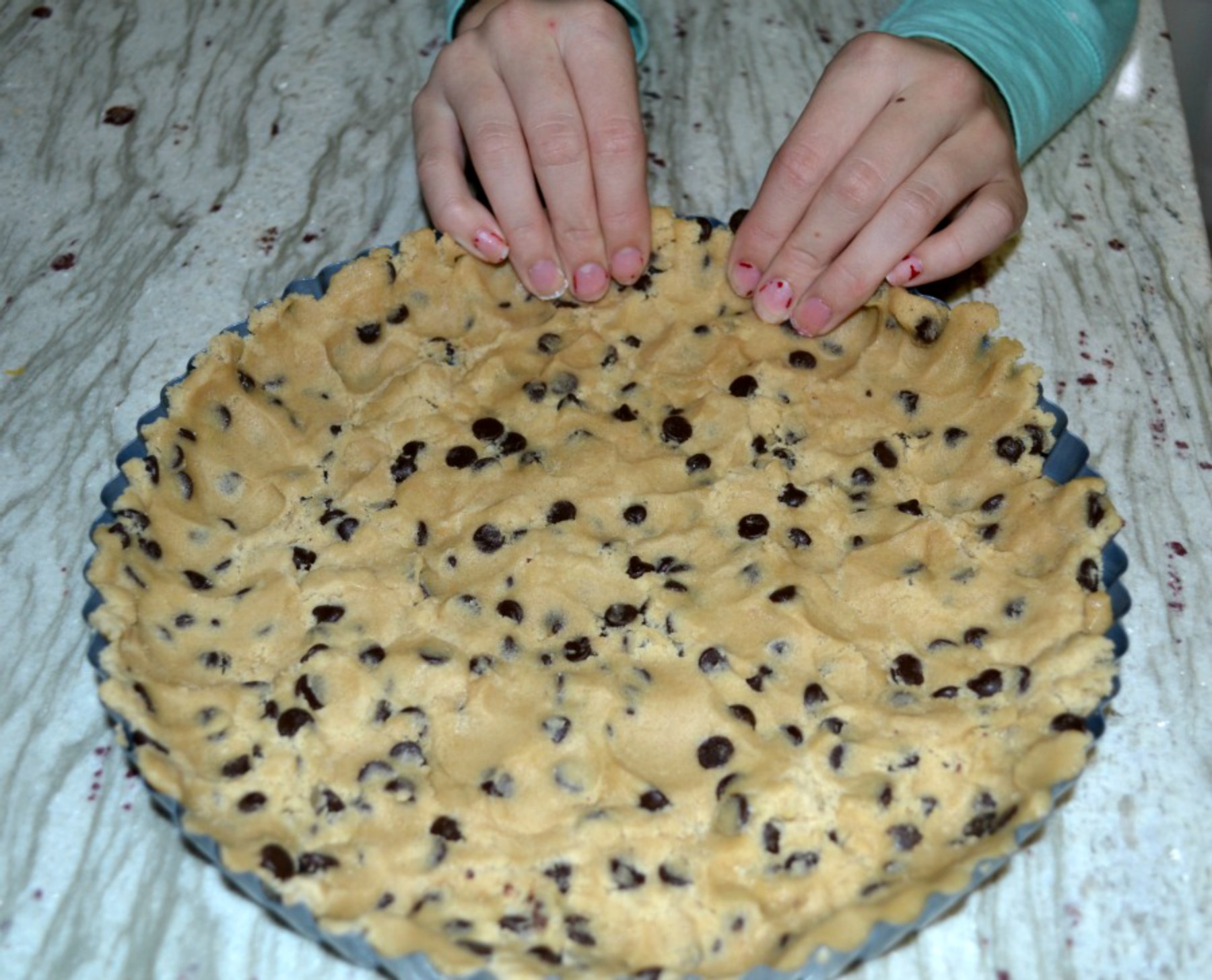 She crumbled the cookie dough and pressed it into the tart pan.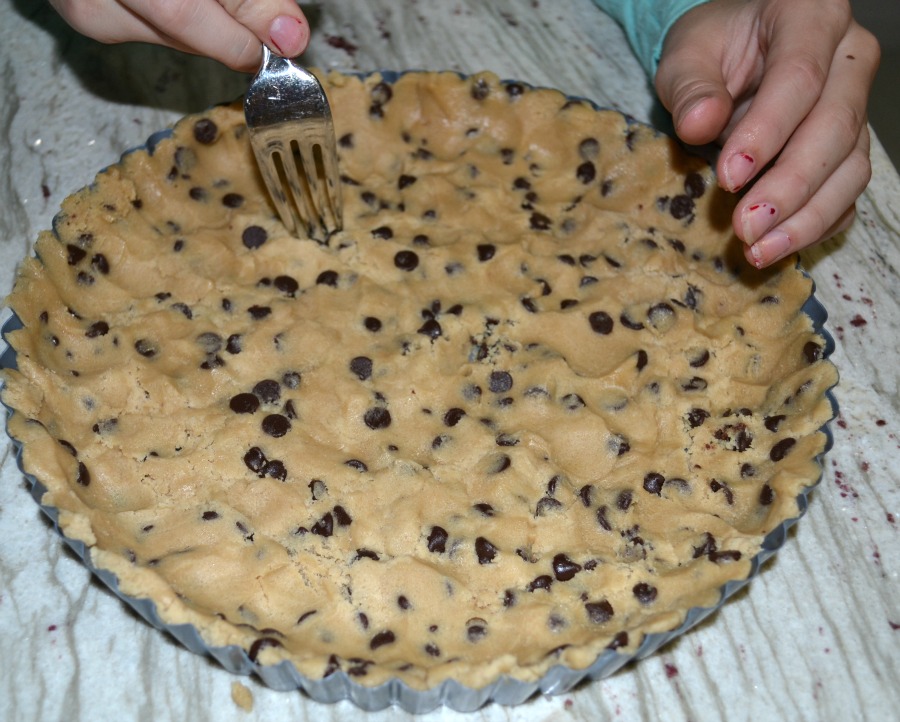 Poke holes in bottom of crust with a fork.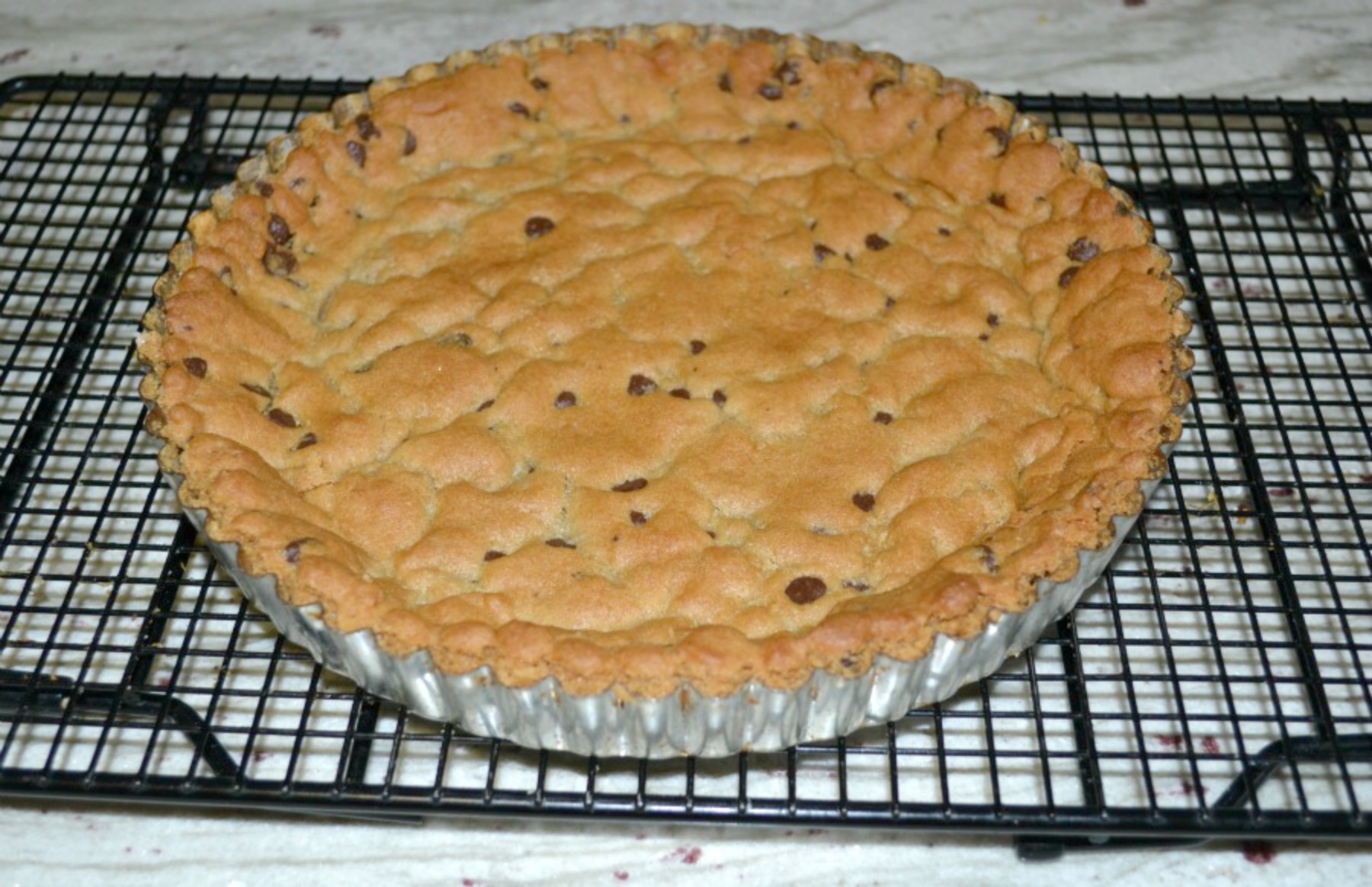 Baked crust cooling.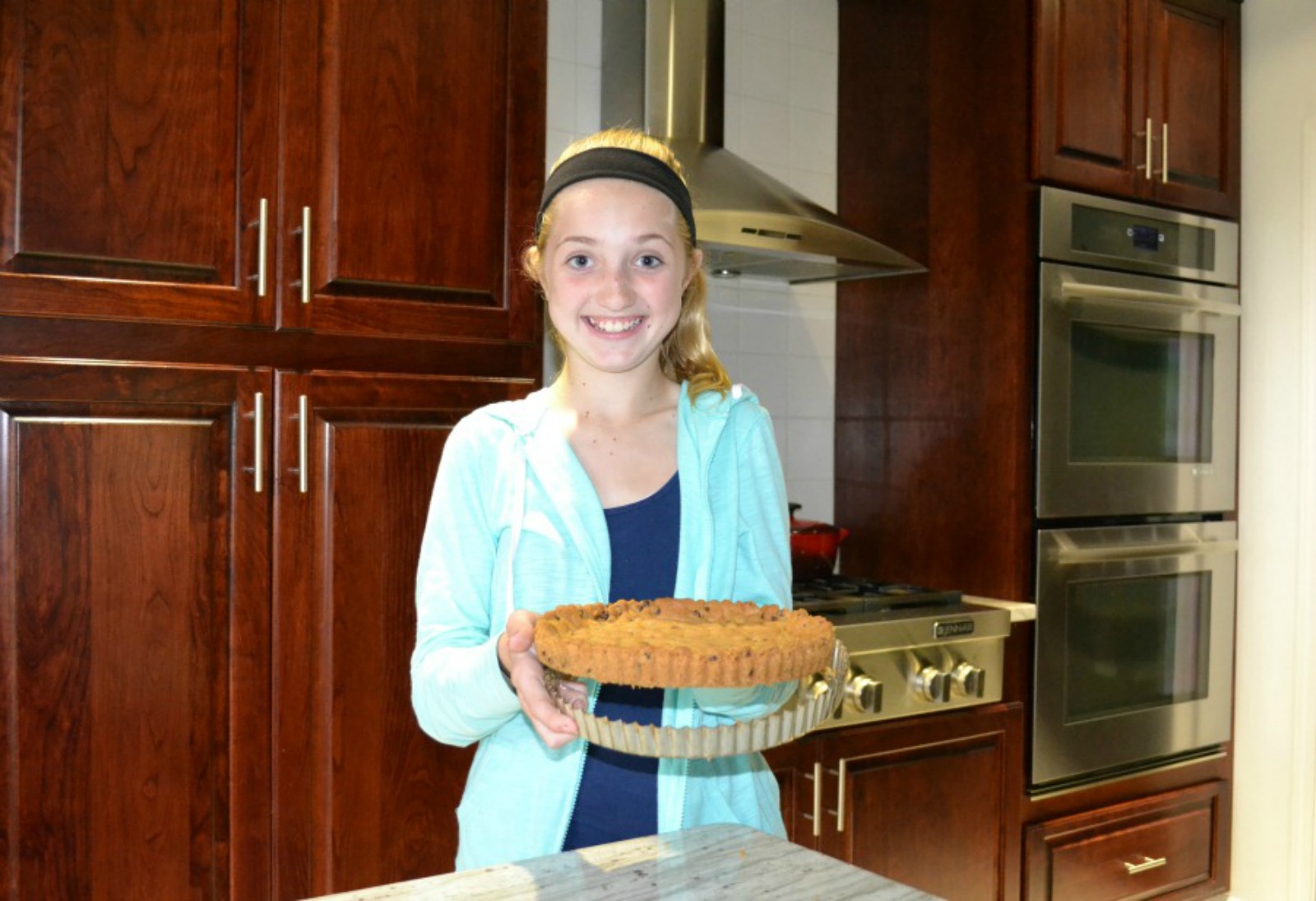 She was so amazed when the removable bottom came off of the tart pan.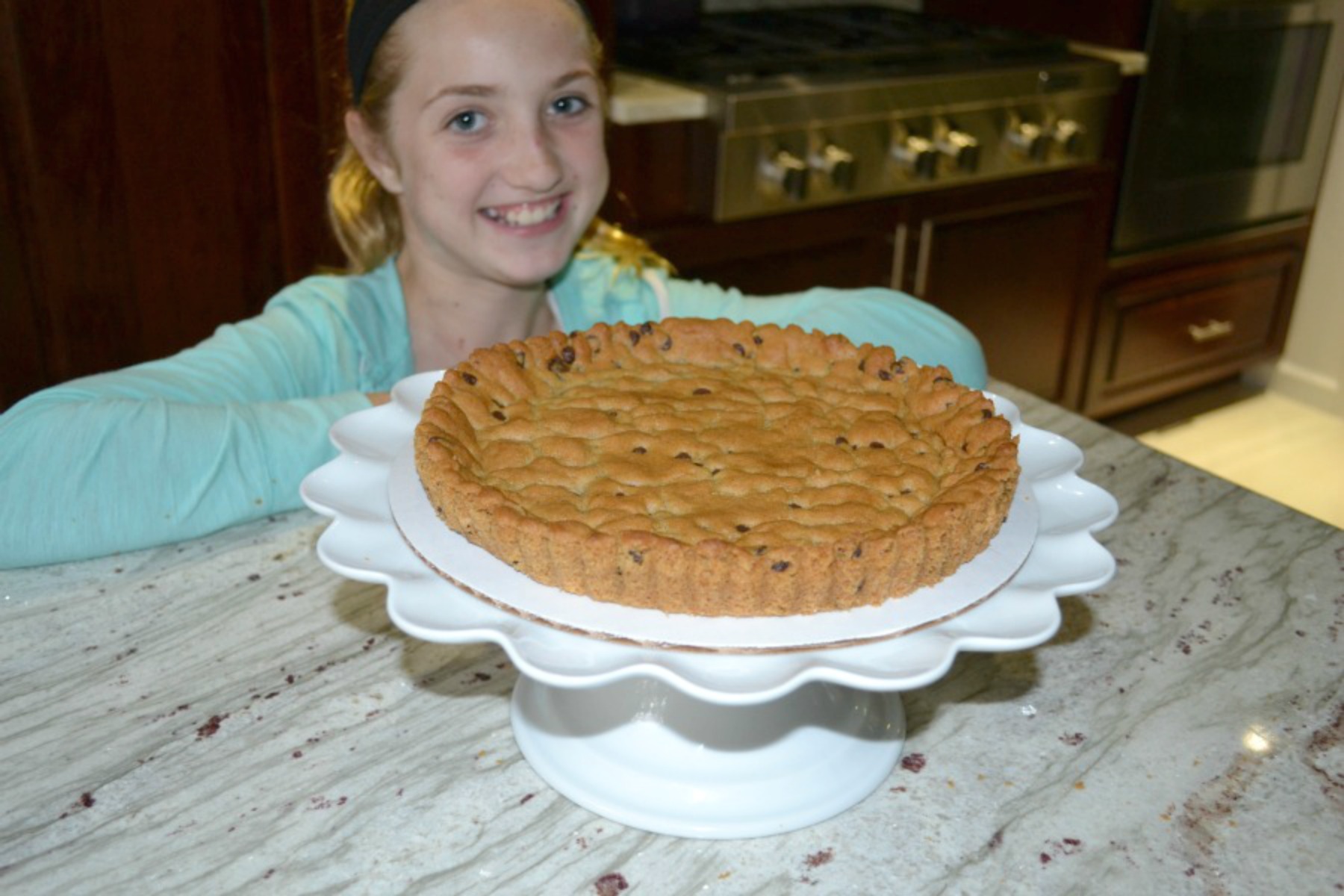 Getting ready to assemble the tart.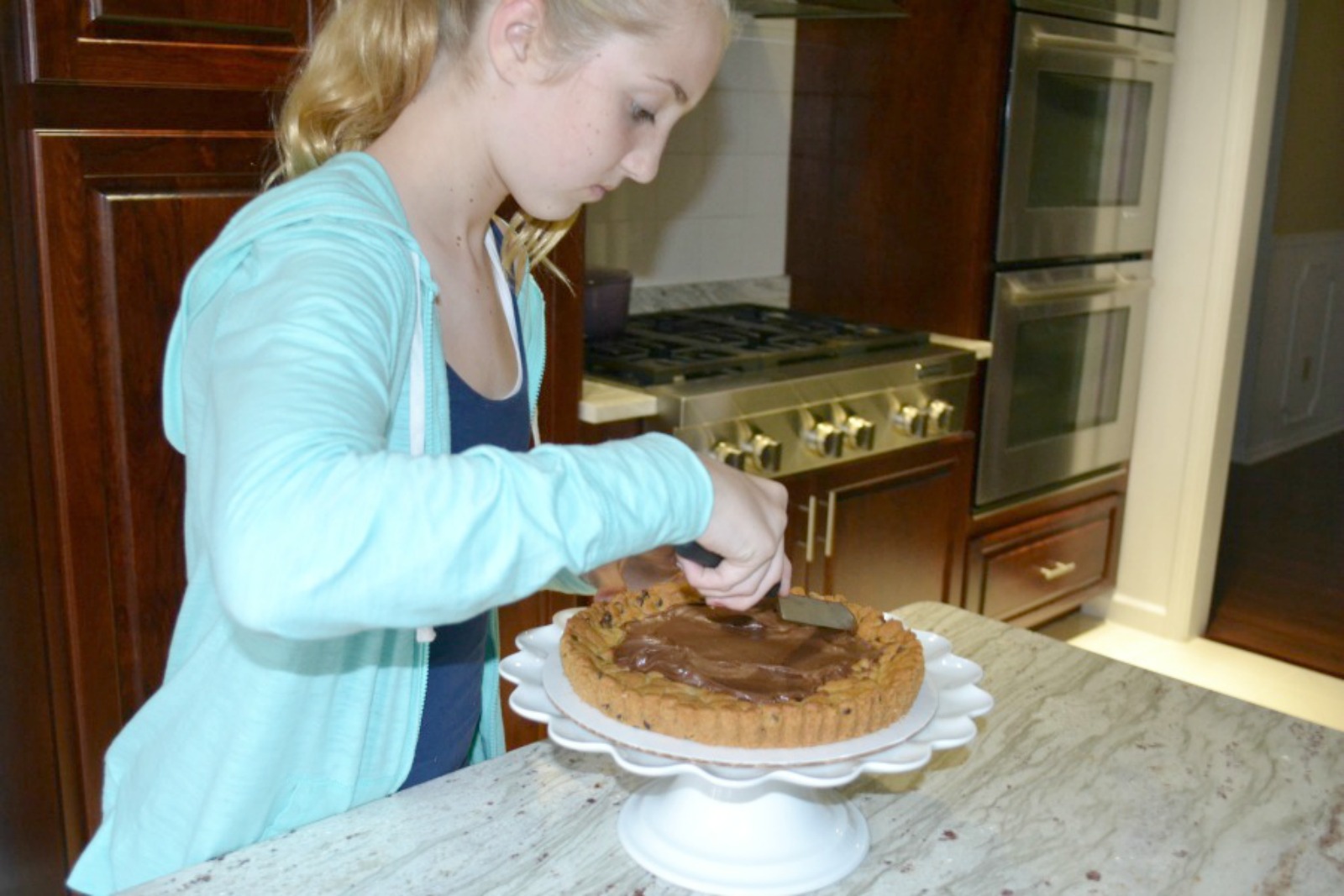 Spread the hazelnut chocolate spread.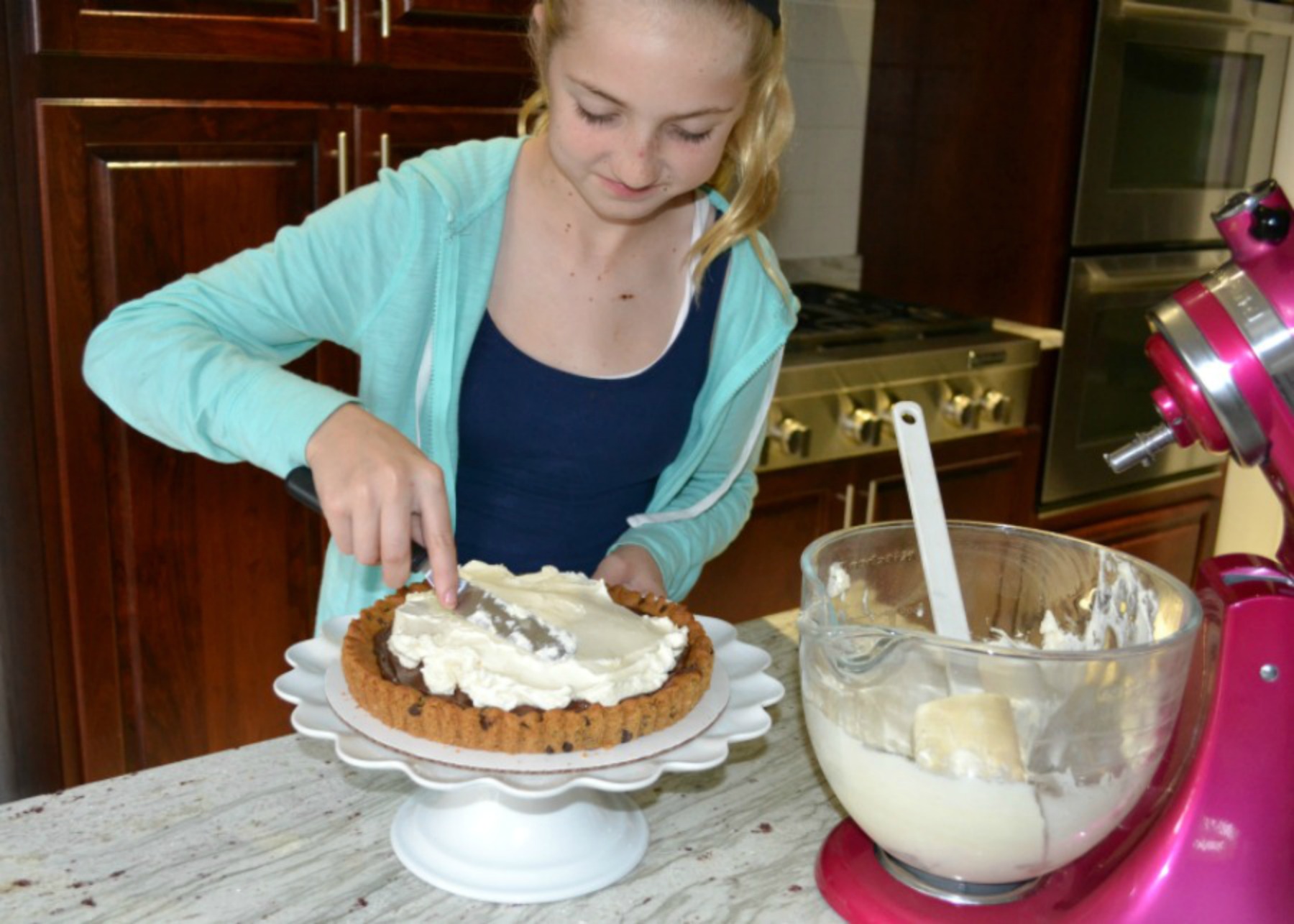 Add the mascarpone cheese, vanilla and confectioner sugar layer.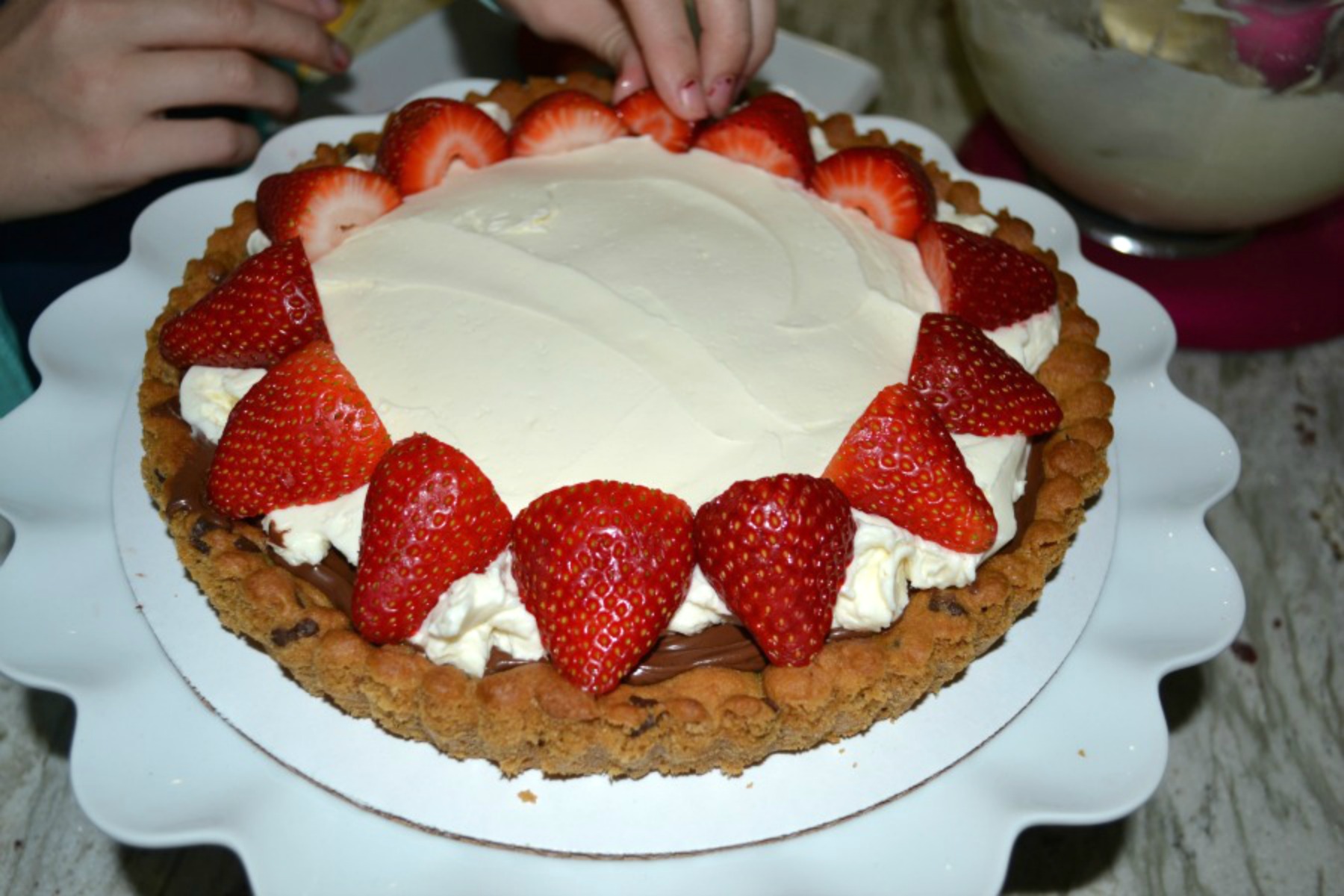 Arrange the strawberries.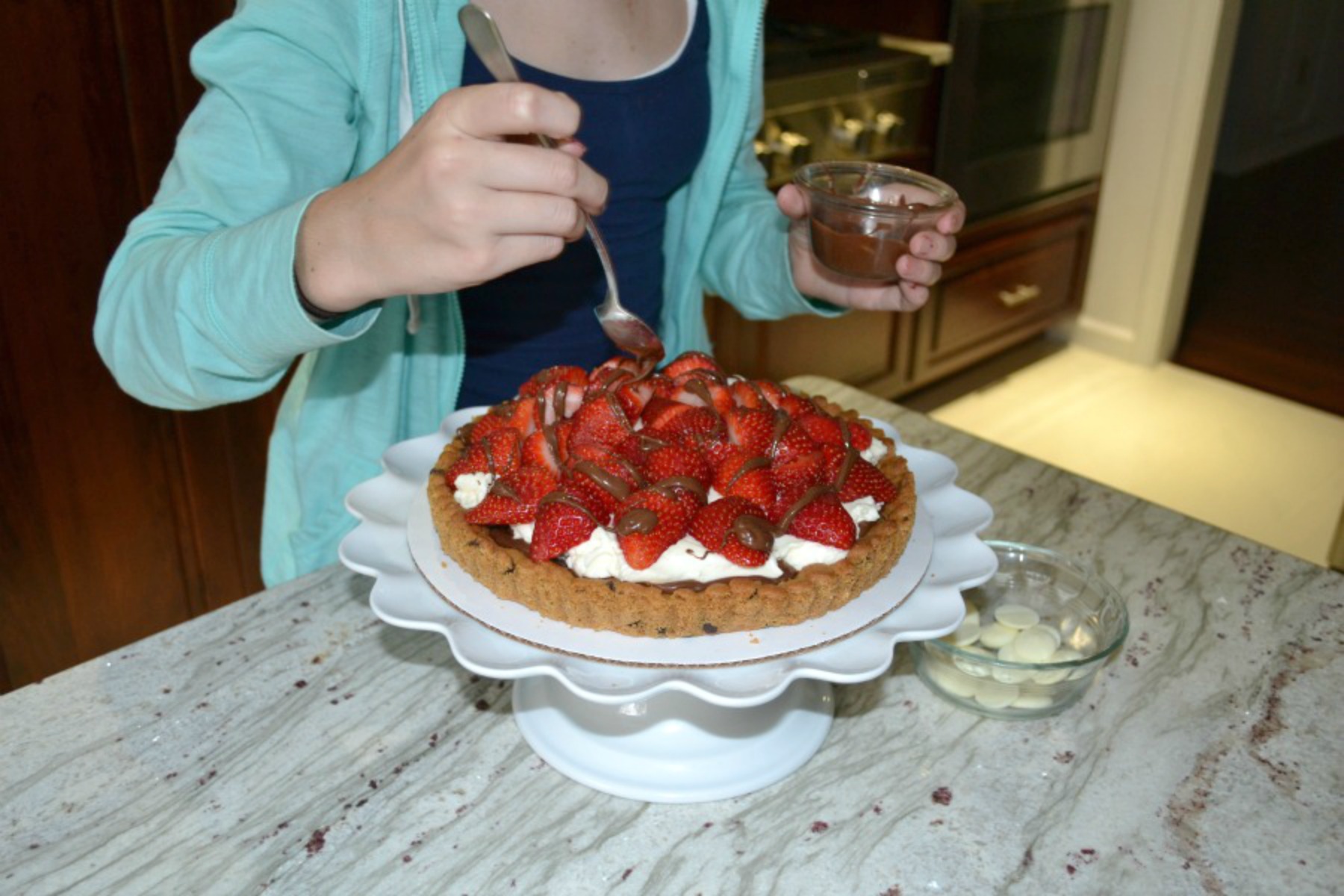 Drizzle the melted hazelnut chocolate spread.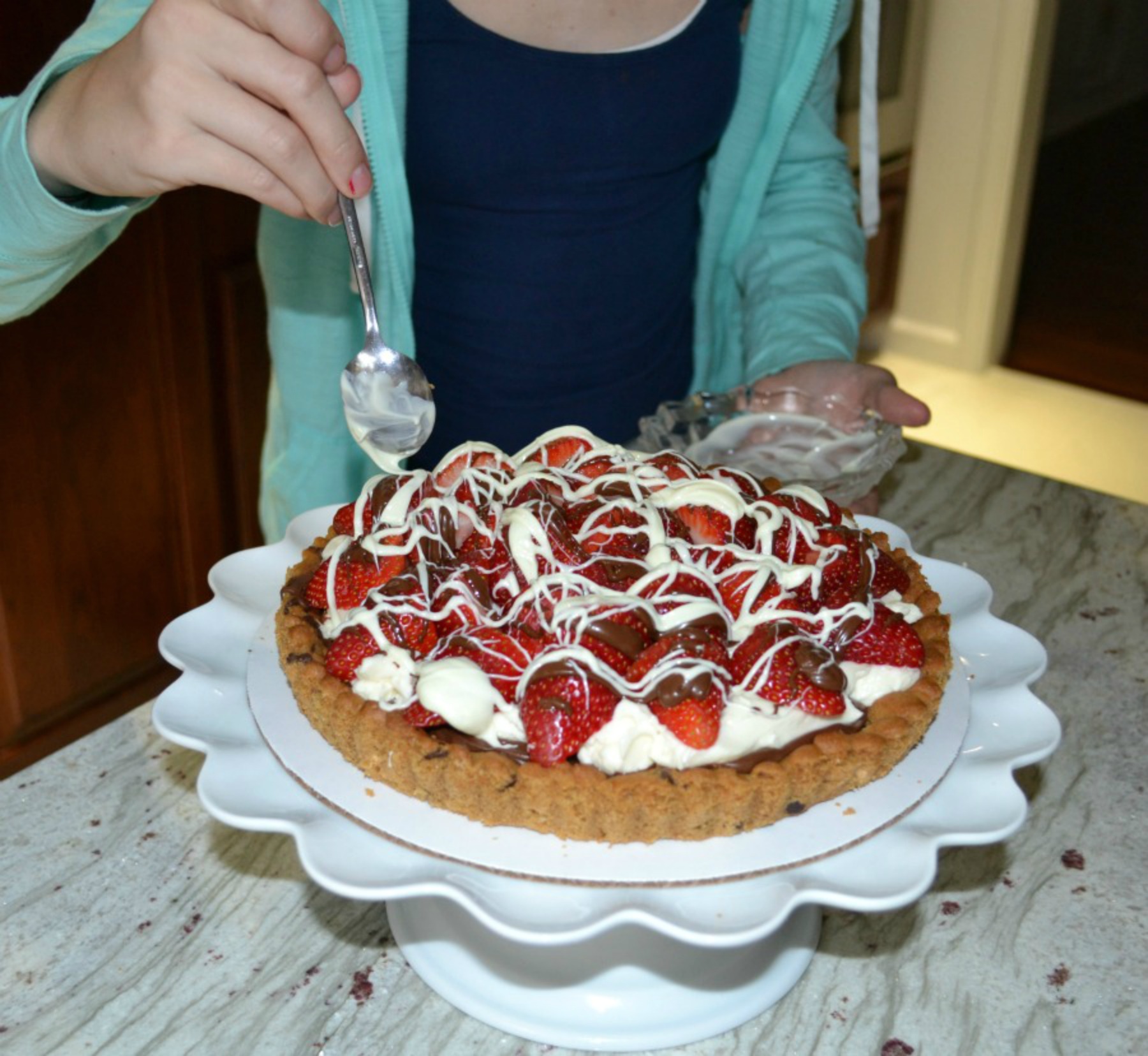 Drizzle the melted white chocolate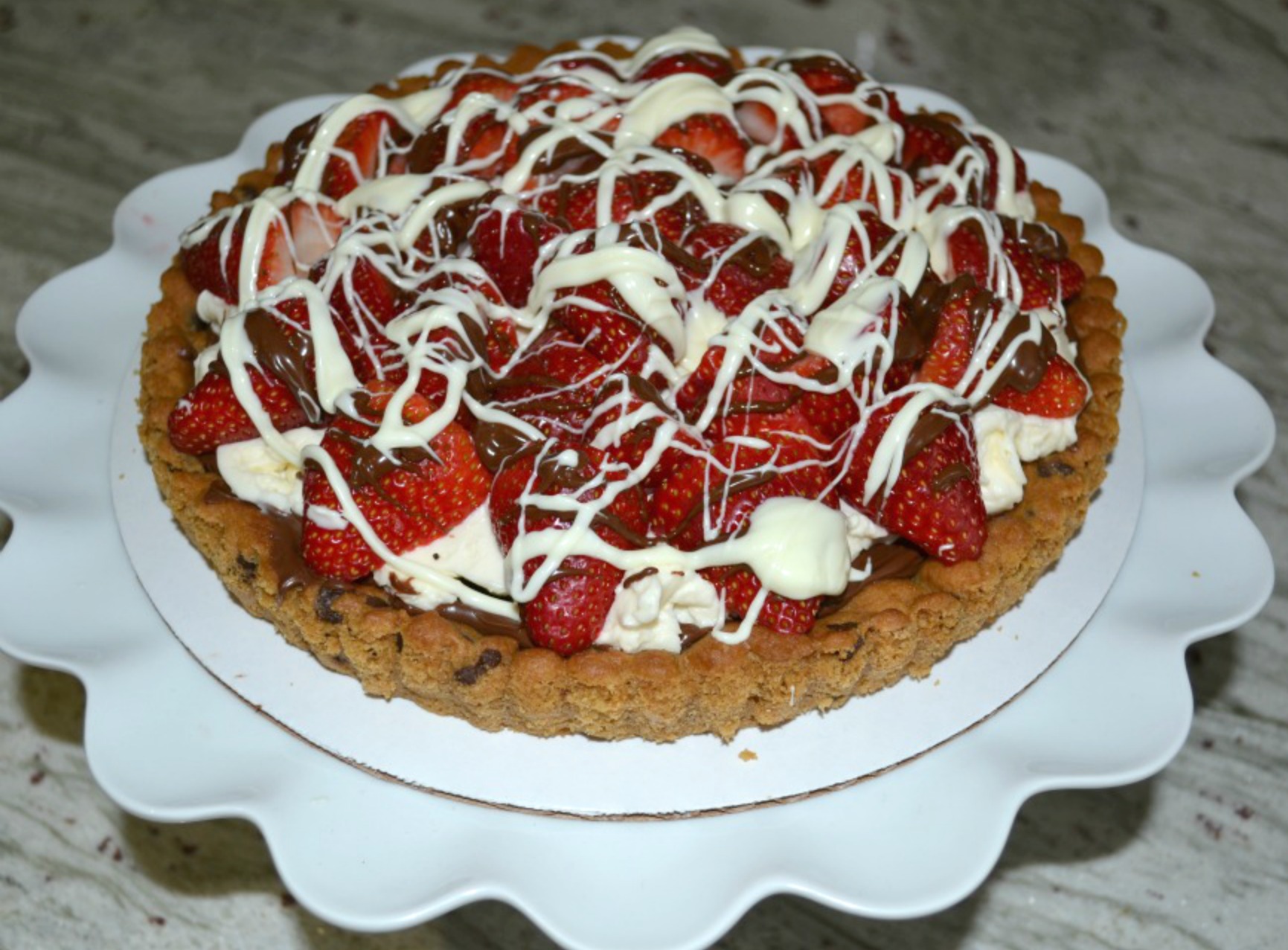 She was so proud of the finished product!!!
Her teacher and class enjoyed her delicious presentation.
I love spending time in the kitchen with my grandchildren and feel so honored that they are proud of me for my accomplishments.
HERE is the recipe from the Pillsbury website for this tart.
STRAWBERRY MASCARPONE HAZELNUT CHOCOLATE TART
Ingredients
1 roll (16.5 oz) refrigerated Pillsbury™ Chocolate Chip Cookie Dough
12 oz mascarpone cheese, room temperature
1/2 teaspoon Pure Vanilla Extract
1 cup powdered sugar
1/2 cup Chocolate Flavored Hazelnut Spread
3 cups halved large strawberries (about 2 pints)
1/4 cup white chocolate candy melts or coating wafers (1 1/2 oz)
Instructions
Heat oven to 350° F. Press cookie dough evenly in bottom and 1 1/2-inches up side of ungreased 9-inch tart pan with removable bottom. Bake 15 to 25 minutes or until golden brown and edges are set. Cool completely in pan on cooling rack, about 1 hour.
Meanwhile, in a large bowl, beat mascarpone cheese, vanilla and powdered sugar with electric mixer on medium speed, 2 minutes or until well blended; set aside.
Reserve 2 teaspoons of the hazelnut spread. Spread remaining hazelnut spread evenly in bottom of cooled cookie crust. Spoon and carefully spread mascarpone mixture over hazelnut spread to within 1/4 inch from edge. Arrange strawberries over mascarpone.
In small microwavable bowl, microwave reserved hazelnut spread uncovered on High 20 to 30 seconds or until drizzling consistency. Drizzle over strawberries. In another small microwavable bowl, microwave candy melts uncovered on High 30 to 60 seconds, stirring once or until drizzling consistency. Place melted candy melts in small resealable food-storage plastic bag. Cut off small corner of bag. Squeeze bag to drizzle melted candy melts over strawberries. Store in refrigerator.
© 2023 Copyright GRANDMA HONEY\\\\\\\'S HOUSE
Please follow and like us: